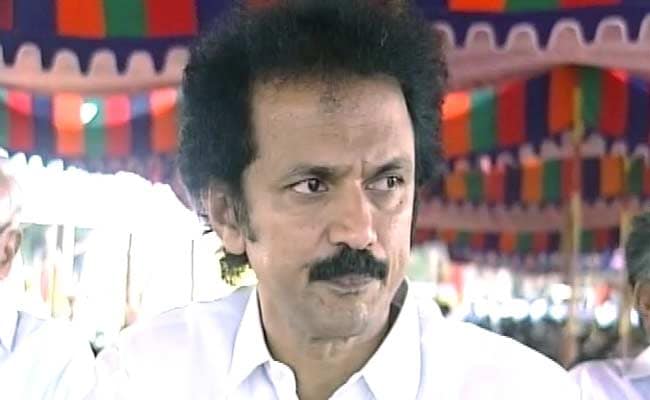 CHENNAI: 
Upping the ante on the issue of removing the ban on Jallikattu, DMK treasurer MK Stalin today said he would lead a day-long 'hunger strike' on December 28 in Madurai seeking the conduct of the bull taming sport during the Pongal festival next month.
Mr Stalin's announcement comes just a day after he urged the Centre and the state government to remove the ban on Jallikattu, imposed by the Supreme Court last year.
He had yesterday warned that he would lead a protest unless they took steps to hold the sport, which is traditionally held coinciding with the harvest festival of Pongal.
Mr Stalin said Jallikattu enthusiasts thanked DMK president and his father M Karunanidhi today in person for the party's support for conducting the sport.
"He (Karunanidhi) assured them that he will support them. Not only that, a massive hunger strike by the DMK's Madurai unit is scheduled on December 28 and Kalaignar (Karunanidhi) has asked me to lead the protest. I will be going (to Madurai) for that purpose," he told reporters.
The protest will be held at Alanganallur, famous for its annual Jallikattu event, he added.
The Supreme Court had last year banned Jallikattu, bull races, bull-fights and other uses of bulls in performances, but there have been widespread demands in the state, especially in the southern districts that the Centre make necessary amendments to concerned laws to ensure that the sport is introduced again in 2016.
Supporters of Jallikattu have been defending it on the grounds that it is a sport of valour and is reflective of the local tradition.
Recently, scores of celebrities, including actress Vidya Balan and India Test captain Virat Kohli, had signed a petition by an animal rights advocacy group seeking upholding of the ban on Jallikattu.
["source-ndtv"]