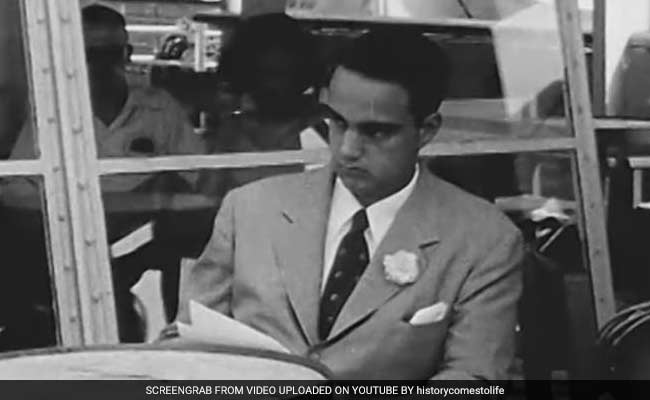 Donald Trump was a brash scion of a real estate empire, a young developer anxious to leave his mark on New York. Roy Cohn was a legendary New York fixer, a ruthless lawyer in the hunt for new clients.
They came together by chance one night at Le Club, a hangout for Manhattan's rich and famous. Trump introduced himself to Cohn, who was sitting at a nearby table, and sought advice: How should he and his father respond to Justice Department allegations that their company had systematically discriminated against black people seeking housing?
"My view is tell them to go to hell," Cohn said, "and fight the thing in court."
It was October 1973 and the start of one of the most influential relationships of Trump's career.
Cohn soon represented Trump in legal battles, counseled him about his marriage and introduced Trump to New York power brokers, money men and socialites.
Cohn also showed Trump how to exploit power and instill fear through a simple formula: attack, counterattack and never apologize.
Since he announced his run for the White House a year ago, Trump has used such tactics more aggressively than any other candidate in recent memory, demeaning opponents, insulting minorities and women, and whipping up anger among his supporters.
Cohn gained notoriety in the 1950s as Sen. Joseph McCarthy's chief counsel and the brains behind his hunt for communist infiltrators. By the 1970s, Cohn maintained a powerful network in New York City, using his connections in the courts and City Hall to reward friends and punish those who crossed him.
He routinely pulled strings in government for clients, funneled cash to politicians and cultivated relationships with influential figures, including FBI Director J. Edgar Hoover, mafia boss Anthony "Fat Tony" Salerno and a succession of city leaders.
In the 1990s, a tragic character based on Cohn had a central place in Tony Kushner's Pulitzer prize-winning play, "Angels in America: A Gay Fantasia on National Themes."
Trump prized Cohn's reputation for aggression. According to a New York Times profile a quarter-century ago, when frustrated by an adversary, Trump would pull out a photograph of Cohn and ask, "Would you rather deal with him?" Trump remained friends with him even after the lawyer was disbarred in New York for ethical lapses. Cohn died in 1986.
"Roy had a whole crazy deal going, but Roy was a really smart guy who liked me and did a great job for me on different things," Trump recently told The Washington Post. "And he was a tough lawyer, and that's what I wanted. Roy was a very tough guy."
To examine the relationship between Trump and Cohn, The Post reviewed court records, books about the men and newspaper and magazine stories from the era, along with documents about Cohn obtained from the FBI through a Freedom of Information Act request. The Post interviewed Trump and others who knew both men.
When they met, Trump, 27, tall and handsome, was at the start of his career and living off money he was earning in the family business. Cohn, 46, short and off-putting, was near the peak of his power and considered by some to be among the most reviled Americans in the 20th century.
Cohn could be charismatic and witty, and he hosted lavish parties that included politicians, celebrities and journalists. A wall at the Upper East Side townhouse where he lived and worked was filled with signed photographs of luminaries such as Hoover and Richard Nixon.
Alan Dershowitz, a professor emeritus at Harvard Law School and a renowned constitutional scholar, said he was surprised when he finally got to know Cohn. "I expected to hate him, but I did not," Dershowitz told The Post. "I found him charming."
There were legions of Cohn detractors. "He was a source of great evil in this society," Victor A. Kovner, a Democratic activist in New York City and First Amendment lawyer, told The Post. "He was a vicious, Red-baiting source of sweeping wrongdoing."
In interviews with The Post, Trump maintained that Cohn was merely his attorney, stressing that he was only one of many of Cohn's clients in New York. Trump also played down the influence of Cohn on his aggressive tactics and rhetoric, saying: "I don't think I got that from Roy at all. I think I've had a natural instinct for that."
Trump said he goes on the offensive only to defend himself.
"I don't feel I insult people. I don't feel I insult people. I try and get to the facts and I don't feel I insult people," he said. "Now, if I'm insulted I will counterattack, or if something is unfair I will counterattack, but I don't feel like I insult people. I don't want to do that. But if I'm attacked, I will counterattack."
Journalists and contemporaries of both men, including a close political ally of Trump, said there was more to the relationship than Trump now acknowledges. Cohn himself once said he was "not only Donald's lawyer but also one of his close friends." Roger Stone, a political operative who met Trump through Cohn, said their association was grounded in business, but he also described the lawyer as "like a cultural guide to Manhattan" for Trump into the worlds of celebrity and power. "Roy was more than his personal lawyer," Stone told The Post. "And, of course, Trump was a trophy client for Roy."
Investigative reporter Wayne Barrett, who spent dozens of hours interviewing Cohn and Trump beginning in the 1970s, once wrote in "Trump: The Deals and the Downfall" that Cohn began to "assume a role in Donald's life far transcending that of a lawyer. He became Donald's mentor, his constant adviser."
Barrett now says Cohn's stamp on Trump is obvious. "I just look at him and see Roy," Barrett said in an interview. "Both of them are attack dogs."
Cohn and McCarthy
Roy Cohn was born in New York City in 1927, into an affluent Jewish family. His father, Albert C. Cohn, was a longtime member of New York's Democratic machine and a State Supreme Court and appellate division judge. Roy Cohn attended elite prep schools and graduated from Columbia Law School at age 20.
Through his father's connections, Cohn landed a job with the U.S. Attorney's Office in Manhattan. In the spring of 1949, Cohn was asked to write a memo about a man named Alger Hiss, a State Department official suspected of spying for the Soviet Union. Cohn soon came to believe that the Soviets had many spies inside the U.S. government.
In 1950, Cohn at age 23 was the lead prosecutor in what became known as the Atom Spy Case. A Jewish couple named Julius and Ethel Rosenberg were accused of conspiracy to commit espionage for the Soviet Union. After the two were convicted of passing atomic secrets to the Soviets, the judge left the courtroom and called Cohn from a phone booth on Park Avenue. As Cohn later wrote, the judge wanted "to ask my advice on whether he ought to give the death penalty to Ethel Rosenberg."
"The way I see it is that she's worse than Julius," Cohn told the judge, according to his autobiography. Both Julius and Ethel Rosenberg were executed in an electric chair.
In 1953, Cohn joined Sen. Joseph McCarthy (R-Wis.) as chief counsel to the Senate's Permanent Subcommittee on Investigations. McCarthy had exploded into public view three years earlier when he claimed that he had a list of 205 State Department employees who were members of the Communist Party.
McCarthy launched a series of sensational hearings about the communist threat in the United States, calling on scores of professors, Hollywood writers, government employees and others to answer questions about their alleged ties to the party. Blacklists were created and careers ruined.
Cohn and McCarthy soon faced a backlash.
In early 1954, the permanent subcommittee held the Army-McCarthy hearings, in part to determine whether Cohn sought special treatment for an enlisted friend. McCarthy objected to tough questioning of Cohn and attacked the reputation of a young associate in the firm of the Army's lawyer. That spurred the lawyer to ask the now-famous question that underscored growing doubts about McCarthy's ethics: "Have you no sense of decency, sir?"
Cohn left Washington in 1954 as McCarthy's efforts lost momentum. He professed admiration for McCarthy to the end of his life. "I never worked for a better man or a greater cause," he wrote in his autobiography.
Settling back in New York, Cohn tapped his connections as he began building a private legal practice, documents show. Cohn often operated in the gray areas of the law. In the 1960s and early 1970s, he fought off four federal or state indictments for alleged extortion, bribery, conspiracy, perjury and banking violations. At the same time, he avoided paying state and federal income taxes and engaged in a variety of schemes to take advantage of wealthy clients, court records show.
Cohn's brazenness seemed limitless. In 1969, while facing his third federal indictment, he wrote a confidential letter to Hoover, the FBI director. Cohn included affidavits, legal motions, news articles and other material outlining his defense.
"When I started fighting Communism as a young voice in the wilderness of the Justice Department, I suppose I realized that those who did not like what I was doing would be after me for a long time," Cohn wrote on Sept. 8, 1969, according to documents obtained by The Post. "You are such a great institution up and down this nation, that I hate to see you diverted or annoyed for even a minute – thus my sense of deep regret."
Hoover wrote back eight days later: "Your generous comments regarding me are indeed gratifying."
In October 1973, when Trump and Cohn first met at Le Club, the lawyer was instantly recognizable, with piercing blue eyes, heavy eyelids and a perpetual tan. James D. Zirin, a New York lawyer who later wrote about Cohn, recalled him as "the strangest-looking man I ever met," with a face "contorted in a perpetual ugly sneer that seemed to project an air of unbridled malevolence." Trump, not yet a household name, knew about Cohn's reputation as a legal knife fighter.
At the time, Trump and his father, Fred, were facing Justice Department allegations that they had systematically discriminated against black people at their family-owned or -managed apartment complexes across New York City. Cohn agreed to represent the Trumps – his way. That meant hitting back hard while shaping public opinion. On Dec. 12, 1973, Donald Trump, his father and Cohn called a news conference at the New York Hilton hotel. They said they were suing the government for $100 million in damages relating to the Justice Department's "irresponsible and baseless" allegations.
Cohn went further in an affidavit, saying the government was really trying to force "subservience to the Welfare Department," according to court records.
A federal judge dismissed the countersuit. And two years later, after a string of theatrics and unfounded allegations by Cohn – including the claim that a Jewish prosecutor had used Nazi Gestapo tactics – Donald and Fred Trump settled the case without admitting guilt.
They signed a consent decree prohibiting them from "discriminating against any person in the terms, conditions, or privileges of sale or rental of a dwelling."
Following Cohn's lead, Donald Trump declared victory.