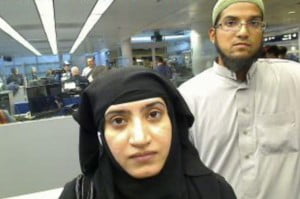 Tashfeen Malik, who helped her husband kill 14 people in the San Bernardino massacre, was allowed to enter the United States because officials never checked her social-media posts — which made no secret of her hateful goal of participating in violent jihad, it was reported Saturday.
Law-enforcement officials finally discovered the postings — which date back years — only recently as part of their investigation of the slaughter, The New York Times reported.
Immigration officials doing background checks of people who want to settle in the United States have not been routinely reviewing social media, the report added.
Officials told the newspaper that there's an internal debate going on within the Department of Homeland Security over whether such checks should be done.
Malik was admitted on a "fiancée" visa allowing her to move to the United States from Pakistan to join her future husband, Syed Rizwan Farook.
The feds are investigating whether a foreign terror group played matchmaker to Malik and Farook, who was born in Chicago.
["source-nyp"]