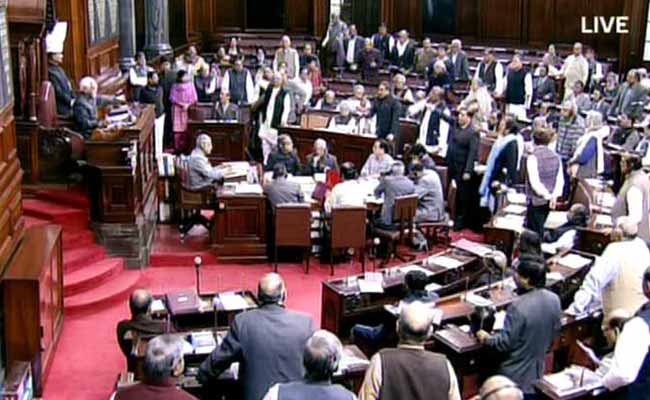 NEW DELHI: 
With the cycle of disruptions in Parliament leaving important legislation in limbo, Rajya Sabha chairperson Hamid Ansari has called an all-party meeting this afternoon.
Mr Ansari's decision followed a 10-minute meeting with Prime Minister Narendra Modi yesterday.
Sources say the chairman is planning to appeal to parties to end disruptions in the Rajya Sabha and also ask for their inputs on a long term solution to the emerging practice where few protesting members paralyze work in the house.
Mr Ansari is also expected to seek the views of political parties on changes in the Rajya Sabha rules to allow tougher action than just naming and shaming on the day's bulletin. Sources in the chairman's office say Mr Ansari wants the power to throw out unruly lawmakers just like the Lok Sabha Speaker can. At today's meeting, he is expected to try and get all parties on board on this.
On Thursday, after repeated disruptions, Mr Ansari threw up his hands and said, "Why can't you allow questions? How can you deny other members the privilege of asking questions?"
In his meeting with Mr Ansari yesterday, PM Modi reportedly hinted that that he should act tough against those disrupt the house.
The PM's meeting with Mr Ansari came after a heated exchange between Deputy Chairman PJ Kurien and Trinamool Congress member Sukhendu Sekhar Roy.
Sources in the Vice President's office say this is not the first time that he has sought more powers to act against members. In 2010, the BJP and other parties had strongly opposed it.
The winter session will end on Wednesday, and while the Goods and Services Tax or GST bill is the government's big worry, it is also concerned about legislation like the Appropriation Bill, which needs to be passed to enable salaries and funding for projects. The government needs the opposition's support to clear bills in the Rajya Sabha, where it is in a minority.
["source-ndtv"]