HIGHLIGHTS
Facebook revealed Express Wifi is under pilot run
Reportedly Express Wifi is being offered at 125 rural Wi-Fi hotspots
Facebook plans to expand the Wi-Fi service to other regions as well
Facebook may have faced disappointment earlier this year with its Free Basics project being shut downby the Telecom Regulatory Authority of India (Trai), but that hasn't stopped the social giant from testing its new Wi-Fi service in India.
Facebook has confirmed that it is testing the Express Wifi service with multiple ISPs (Internet service providers) in the country. BBC reports that Facebook's Express Wifi is under a pilot run, and is currently being offered at 125 rural Wi-Fi hotspots. The social giant in a statement confirmed that the Wi-Fi service testing is being carried out with "multiple local ISP partners". Facebook intends to expand the availability of its Express Wi-Fi to other regions soon, it told the publication.
"With Express Wifi, we're working with carriers, Internet service providers, and local entrepreneurs to help expand connectivity to underserved locations around the world. We're currently live in India, and are expanding to other regions soon," says the official Facebook's Express Wi-Fi page.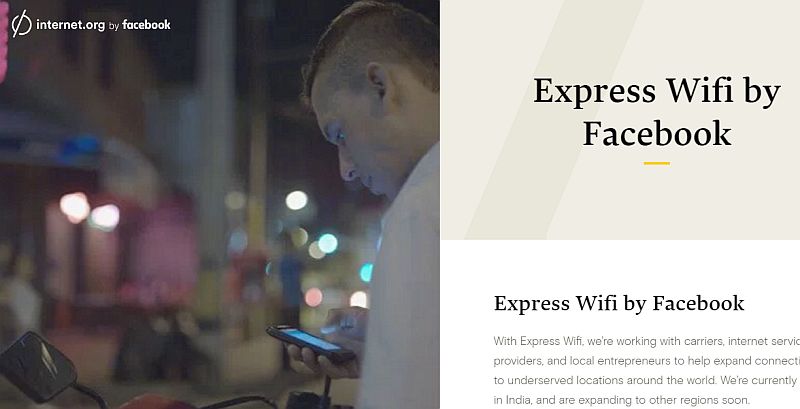 The Express Wifi service is aimed at providing data to users from local ISPs to access the Internet. "When people are able to purchase fast, affordable and reliable internet, they're able to explore the range of information it has to offer including news, education, health, job postings, entertainment, and communication tools like Facebook," explains the official page.
The company also stresses that the Express Wifi will "empower local entrepreneurs to help provide quality internet access to their neighbors and make a steady income." Apart from the Wi-Fi service, Facebook is also pushing its software to connect communities.
The official Express Wifi page also lists a "Get Involved" section for visitors where it offers to add a website to Free Basics project. The page also shows some job listings for the country.
["Source-Gadgets"]