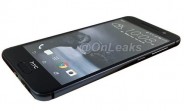 HTC is scheduled to announce a new device on October 20 and for all we know, it's going to be the One A9. Not the best kept of secrets, the smartphone has been photographed on a few occasions already, but now we get a more detailed look at it, albeit through a dummy unit.
The leaked shots, courtesy of @OnLeaks, show the One A9 (conceived as HTC Aero) from multiple angles leaving little to the imagination. As a whole, it's the iPhone 6 lookalike we've come to expect from previous leaks.
There's the enormous bottom bezel, which has no excuse for its existence, now that the Back/Home/Task switcher buttons have moved to the display and the chin only needs to accommodate the fingerprint sensor. The back has the contrasting antenna bands, a necessary eye-sore on metal-built smartphones. The camera lens is sticking out by a millimeter, but it's dead center, so Apple's legal department can remain at rest.
HTC One A9 dummy unit
What's offset from the center is the upside-down microUSB 2.0 port (no Type-C), but that's been HTC's way of doing it at least since the original One, so it must be an inherent part of the internal design. The bottom plate is pretty crowded too – other than the port, there's the 3.5mm jack, mic pinhole and speaker grille – not the tidiest design, but at least it allows the top to be perfectly minimalist.
A microSD tray sits next to the one for the SIM card on the left side, so it's nice to see that HTC isn't turning its back on storage expansion. The right side is home to the volume rocker and power button, nothing revolutionary here either.
["source-gsmarena"]