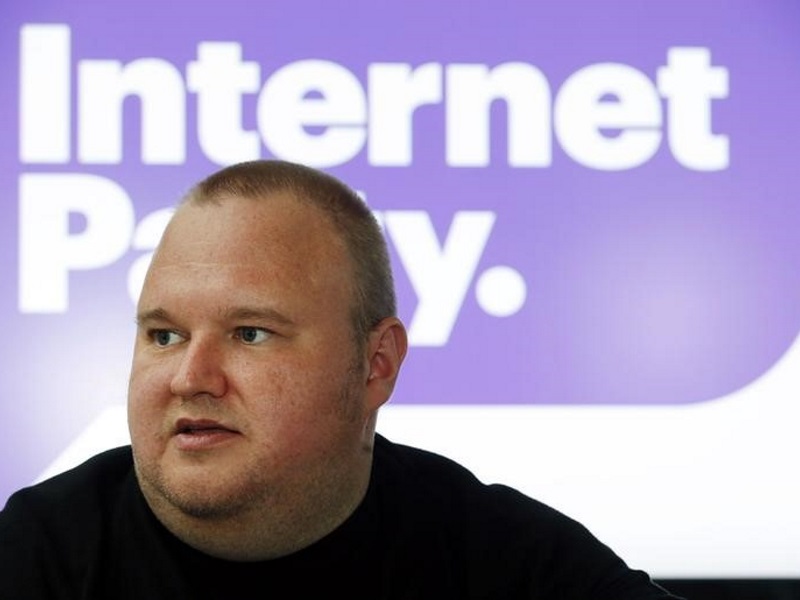 Internet mogul Kim Dotcom's long-awaited extradition hearing opened in New Zealand Monday with the flamboyant founder of now-defunct Megaupload confident he can avoid being sent to the United States to face online piracy charges.
The German insists he is a legitimate Internet entrepreneur, while US authorities allege his Megaupload empire promoted online theft on a grand scale.
They claim Megaupload netted more than $175 million (roughly Rs. 1,152 crores) in criminal proceeds and cost copyright owners $500 million (roughly Rs. 3,292 crores)-plus by offering pirated films, music and software.
Almost four years after armed police raided his Auckland mansion, Dotcom entered court wearing his trademark black attire for a hearing expected to last up to three weeks.
"This case is not just about me. This case is about how much control we allow US corporations and the US government to have over the Internet," he tweeted before the hearing began.
Dotcom watched proceedings from his own leather armchair at the back of the court after being granted special permission to bring it in to try to ease a back complaint.
The charges against Dotcom include fraud, racketeering and money laundering. They were laid after an investigation into what the FBI describes as the largest copyright case in US history.
The 41-year-old and his three co-accused – ex-Megaupload executives Finn Batato, Mathias Ortmann, and Bram van der Kolk – face jail terms of up to 20 years if convicted in the US.
Hearing delayed 10 times
They have mounted a determined defence, successfully delaying the extradition hearing 10 times and challenging the actions of US prosecutors and New Zealand police at every turn.
It was no surprise that legal wrangling dominated the opening day, as judge Nevin Dawson heard submissions on what evidence was admissible and the order in which it should be heard.
Lawyers for the accused asked for a stay of proceedings, saying US authorities were refusing to give them access to frozen funds that they need to hire expert witnesses.
"Court orders made by New Zealand courts and Hong Kong courts have been frustrated by a deliberate tactical decision by the US to stop us accessing expertise that we need," said barrister Grant Illingworth, representing Ortmann.
Dotcom claims that Washington is pursuing him at the request of the US entertainment industry and says the case could set a precedent that affects all Internet users.
"The judges on this case can become the champions for billions of Internet users or a handful of US content billionaires," he tweeted.
His lawyers argued in a 2013 position paper that copyright theft is usually treated as a civil offence that would not warrant extradition from New Zealand.
They said the inclusion of serious criminal charges that would normally only be levelled at gangsters, showed a "gunslinger attitude" by prosecutors determined to claim Dotcom's scalp.
Judge Dawson does not need to determine whether Dotcom and his co-accused are guilty of any crimes, only whether there is a strong enough case to warrant extraditing them to the US to stand trial there.
The hearing will resume on Thursday, when the judge will hand down a decision on the defendents' application for a stay of proceedings
["source-gadgets.ndtv"]