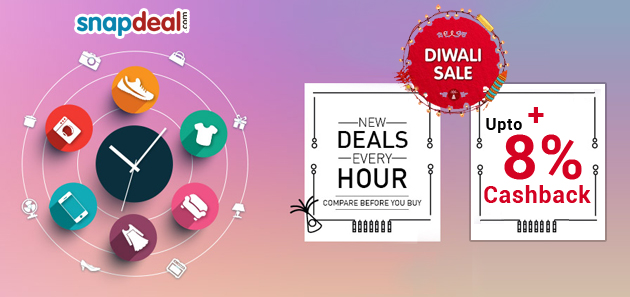 Diwali is right around the corner. Do you know what that means? The Snapdeal sale is one of the best sales that comes up during the Diwali Season! And it is right here!
When it comes to bargain hunting, Snapdeal takes the presumption out of finding the best deals available. Started in 2010, Snapdeal is regarded as India's one of the ultimate online shoppingdestination and provides shipping to over 5,000 locations throughout the region. The company also offers over 15 million products and features many exceptional Snapdeal coupons that offer deep discounts that cannot be found elsewhere. Snapdeal, also helps you to handle a variety of transactions including data card recharge, bill payment, and DTH recharge. It helps you to do all of your shopping and payments on one versatile platform, making it more handy and tedious. With Snapdeal, you can also search for available properties on the real estate market or arrange a personal loan for your next vacation, which makes it more worthy. As the trend sets now, using Snapdeal provides you with access to discounts and promotions on these services that you might not otherwise come across if you were handling these transactions directly through a vendor. You can benefit from these promotions to get great deals on cars, mobile accessories, or even electronics for college. As Snapdeal continues to expand its marketplace, it becomes a comprehensive resource for bargains and great finds online.
Keeping in mind the festivities, Snapdeal leaves no stone unturned to attract its customers. The Snapdeal "Unbox Diwali Sale" starts from 25th October which extends for two days i.e. ending on 27th October, 2016. Unbox a new home, a new image and a new lifestyle with Snapdeal's Unbox Diwali Sale which offers appealing deals for everything you have been waiting to buy. Shop from a wide range of appliances, home theatre systems, furnishing items, etc, and bring home the joy of the Festival of Lights. At Snapdeal, they are all set to wow their customers with Diwali offers like never before! The "Unbox Diwali Sale" gives you amazing pocket friendly discounts on a humongous variety of products which will compel you to buy goodies from Snapdeal. Keeping in mind the customers Sanpdeal reaches out to you for excellent delivery and return policies helping you further in every aspect of shopping. Not only there are offers on the products, they are also providing you with offers and cash backs if the customers pay through a particular bank account.
Don't worry if you miss out on the "Unbox Diwali Sale" because if you browse through the inventory available on Snapdeal, you will notice that many of the items have been discounted fairly at rates that are very competitive to what you would find in stores. There are a number of coupons that you can use for extra savings, much of which can be redeemed through the use of a Snapdeal promo code during your shopping experience.
Snapdeal also offers two exclusive types of deals every day listed under their "Deals of the Day" section. In this part, one can find many trendy items discounted to a more frugal price. Snapdeal's "Super Deal of the Day" provides the utmost discount in comparison to the rest of the deals provided in this section. Deals of the Day change on a daily basis, so if your ideal deal isn't available today, consider checking again tomorrow!The Snapdeal mobile app allows you to access bargains and deals whenever you want. Using Snapdeal coupons for mobile purchases is easy, so your checkout process remains quick and convenient.
So go shopping virtually!