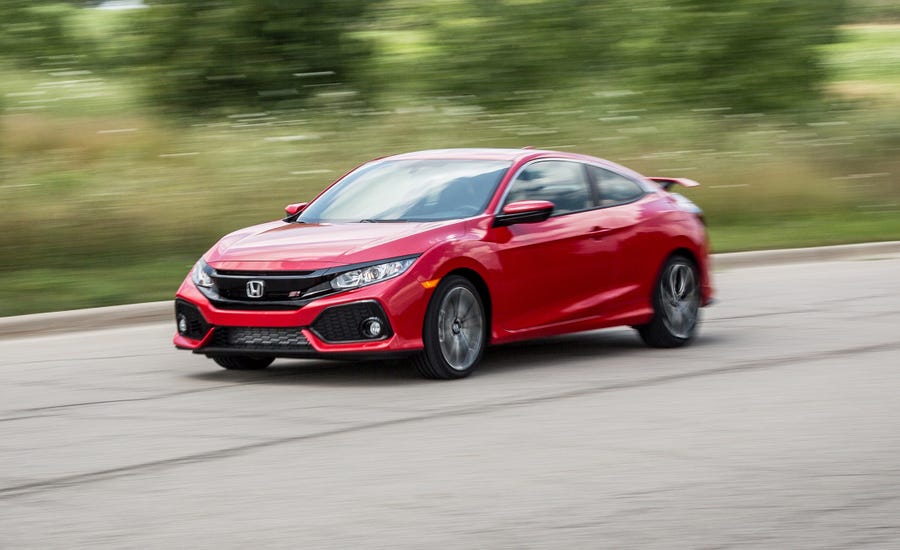 Overall Rating:

The Civic is a well-liked and respected member of the compact-car class, but its tuned-up sibling, the Civic Si, has inspired a completely different level of fandom over the years. (Except for the last generation, which was a dud.) But in this newest Si, Honda has reprised the magic that once made the model a favorite among car enthusiasts—ourselves included. The exterior differences between the base Civic and Si are seemingly minimal (if you can ignore the Si's ghastly rear-deck spoiler), but the Si turns heads, as if it's something far more extraordinary than its sub-$25,000 price would suggest. And, in fact, it is. By taking the body and soul (a.k.a. the engine) of a normal, turbocharged Civic and adding adaptive dampers, a stiffer suspension, and 31 extra horsepower, Honda has created something new and almost entirely excellent. Sure, we have a few issues here and there, but we're thrilled that the Si is back—and once again a great driver's car.
What's New for 2017?
The Si is a new addition to the Civic lineup for 2017, eagerly awaited ever since the last version went out of production in 2015. The underpinnings and engine are largely shared with the regular Civic, but they're modified specifically for this model.
Trims and Options We'd Choose
The Civic Si comes either as a coupe or a four-door sedan. There's a single powertrain available in the Si—a 205-hp turbocharged inline-four mated to a six-speed manual transmission—and one factory option: summer tires. At $200, they are a must-have. The coupe and sedan versions cost the same, the interior is available only in black, and every exterior color is available at no cost. With scant choices, we have almost no options advice, save this one piece: Don't choose the radioactive-vomit-colored Energy Green paint.
The Si starts at $24,775. Standard features include:
• Adaptive dampers
• Six-speed manual transmission
• Heated front seats
• 7.0-inch touchscreen infotainment system with Apple CarPlay and Android Auto
In Depth: 2017 Honda Civic Si
Performance and Driving Impressions
Safety and Driver Assistance
Warranty
["Source-caranddriver"]