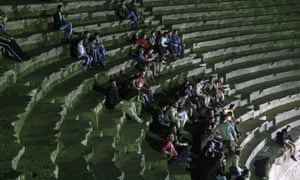 Since 2011, conflict has raged in Syria. And since then, thousands of locals have recorded it on their smartphones. Such firsthand footage has become a powerful expression of freedom against the regime.
Tonight marks the opening of the Syria mobile film festival in Berlin, showcasing 11 documentary shorts shot by 12 Syrian film-makers.
Its founder is Amer Matar, a 29-year-old author, journalist and documentary film-maker now exiled in Germany, arrested twice in 2011 for his work organising peace demonstrations.
"It's important to show what life is like inside Syria right now. It's important to document the daily life, the daily shootings," Matar says. That the conflict dominates the cinema produced is inevitable. "Most of the films revolve in the world of war, whether it's death, injury or exile, and the effect of war in Syria."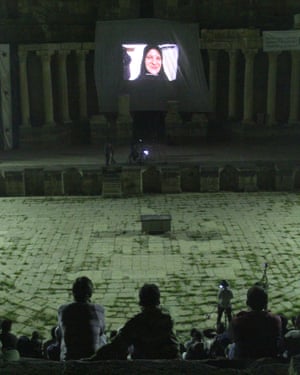 The seed was sown when Matar was arrested five years ago; he noticed that those who were arrested had footage they recorded on their mobile phones documenting the revolution.
"It was the only instrument you could document with," he says. "Civilians were documenting shelling, bombardment and demonstrations. It's not professional, but it doesn't have to be. The footage is shaky, but it has an endless amount of emotions and interaction between the film-maker, the citizen and the footage – and they're filming themselves. It created a new perception."
The idea for the film festival came two years later, as other mobile film festivals were budding in countries including Tunisia, Libya and Egypt.
Matar, who runs a production company called ashar3, a non-profit media foundation defending freedom of the press in Syria, began by looking at the vast amount of footage already online. "So many people were already doing this, so why not push it in a direction, do it in a more organised way?"
In 2014, the Syrian mobile film festival took place across 20 cities in Syria. Earlier this week, the festival began in Syria, in the historic Bosra amphitheater in Daraa – held in secret and shared only through word of mouth. Events will also happen in Aleppo, Idlib and Ghouta, as well as two Turkish cities, Gaziantep and Şanlıurfa.
"Since free space is stolen in our home country, now there are an enormous number of exiled Syrians trying to recreate what was once possible in our own space in Syria," Matar says. "This might be just a fraction of what can be, or what we could have done in our own country as well."
While the films were shot in Syria, they were developed in a workshop held in a border town of Turkey. The festival not only supports Syrian film-makers by helping them produce their first semi-professional short films, it also offers grants, awards and training programs for Syrian directors who make low-budget, mobile documentary films.
A total of 32 films were developed over the course of one year in their workshops and the 11 chosen to screen in Berlin were selected for their innovative use of the mobile camera.
"The ones that were not chosen were the ones you could make with another camera," says Matar. "The mobile phone plays a big role in the storytelling. They not only filmed other people, but filmed themselves as part of the story, somehow."
Four key titles at this year's Syria mobile film festival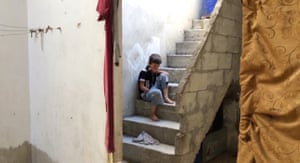 Clusterd
A short film shot by Hasan Kattan, an Aleppo-based correspondent for Al Jazeera and a law student at Aleppo University, Clusterd tells the story of a young boy named Hussein, who found a cluster bomb next to his home. He started playing with the bomb, as if it was a toy; after pulling its pin, it exploded. Today, his right hand is amputated, while his left hand has only three fingers. "I can't write, my hands hurt me," says Hussein, who has suffered learning difficulties and a poor memory since the accident.
"Many kids have suffered from the bombardment, not only the direct effect, but what comes after," Matar says. "You see kids going and playing with anything they see and, unfortunately, accidents happen. In this case, the film-maker had a close relationship with the family and the child. It was a personal connection that shows an honest film."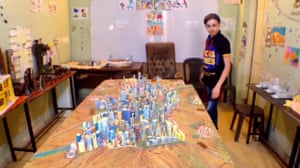 The Architect
One press photographer in Aleppo, Mujahid Abu Aljoud, made a short film in his rubble-filled city. He follows a young boy with a dream of becoming an architect, and with paper, paint and a glue gun he makes a diorama of the city, including bombed buildings, barricades and the destruction around his old home. He then builds a new city with a river, an airport and buildings, based on a vision of hope.
Barbed Wire
Aktham Alwany's short film follows a Syrian journalist as he risks his life to sneak into Turkey. The dangerous path, which starts with a moonlit car ride, continues across a barbed-wire fence, with rejections, even gunshots at the Turkish border – which have killed numerous Syrians.
Mosaic of Struggle
This short by Mohammad Quasem was shot in the northern Syrian city of Kafr Nabl. A character named Abd was hit with a rocket, leading to the amputation of his leg. "People have to get used to things; they need to be able to live with their circumstances," he says in the film. Today, he is an artist's assistant with other amputees, making realistic mosaics in an art studio. "What encourages us is that we are transferring the suffering of the Syrians to those who don't know what is happening inside Syria," he says. "That gave me confidence; it makes me feel my existence."
["source-Theguardian"]