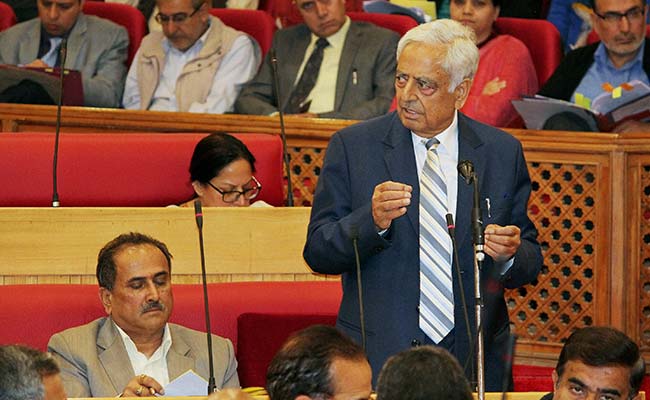 SRINAGAR: 
Six of the 11 ministers, who are second time legislators, in the PDP-BJP coalition government in Jammu and Kashmir allegedly have not filed income tax returns before contesting the state assembly polls last year.
According to the affidavits submitted by the these ministers to the Election Commission, they had not filed income tax returns for the assessment year 2013-14 ahead of the assembly elections last year.
While 11 ministers, including Chief Minister Mufti Mohammad Sayeed, had prior legislative experience before the 2014 elections, 14 ministers in the coalition government are first time legislators.
Prominent among the ministers, who did not file their income tax returns, include Law and Parliamentary Affairs Minister Syed Basharat Bukhari, Horticulture Minister Abdul Rehman Veeri and Revenue Minister Javaid Mustafa Mir.
Five of these six ministers belong to the PDP, while Public Health Engineering Minister Sukhnandan Kumar is the only BJP minister not to have filed the returns.
Chief Minister Sayeed, his close confidante Education Minister Naeem Akhtar and BJP's Health Minister Chaudhary Lal Singh are among the five ministers who have filed their income tax returns for the assessment year 2013-14.
Under section 271 F of the Income Tax Act, a penalty of Rs. 5,000 is payable if a person with taxable income fails to file returns.
In case of tax evasion, criminal proceedings can be initiated against the defaulter.
Legal experts maintain that not filing income tax return amounts to commission of an offence under the Income Tax Act.
"Non-filing of the return is an offence. It amounts to concealing of the income," former Assistant Solicitor General of India and senior advocate Anil Bhan told PTI.
Mr Bhan said while filing the returns was mandatory, it does not mean that a person has to pay income tax.
"There are many people who file their returns regularly but do not pay any income tax as their income does not fall under taxable slabs," he said.
According to Secretary Legislative Assembly Mohammad Ramzan, a legislator in Jammu and Kashmir draws a basic salary of Rs. 40,000 per month and gets allowances to the tune ofRs. 40,300.
While chief minister gets an additional Rs. 10,000 as perks, a minister in the state gets Rs. 5,000 in addition to his emoluments as a legislator.
"Filing of income tax returns and paying taxes is individual responsibility. I cannot comment on that, but I am sure the honourable MLAs must be doing it," Mr Ramzan said.
Interestingly, only three of the 20 multiple-term legislators from the opposition benches in the assembly have not filed income tax returns before contesting polls last year.
These include two from National Conference (Aga Roohullah and Shamima Firdous) and one from Congress (Abdul Rashid Dar).
In the 87-member assembly, 56 are first-time legislators while 31 others, including former chief minister Omar Abdullah, have been members at least once before.
["source-ndtv"]