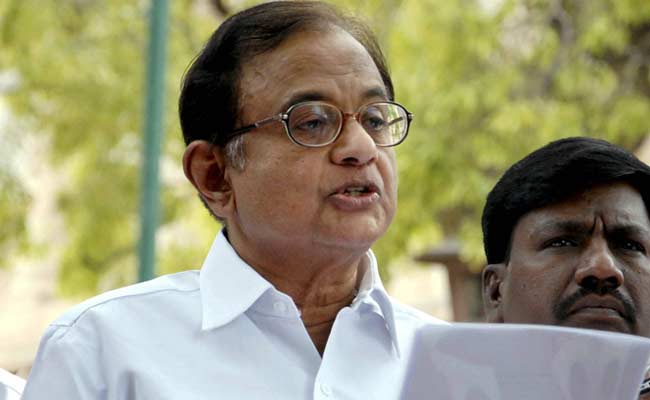 NEW DELHI: 
Former finance minister P Chidambaram today said it was "unfair" to drag Congress president Sonia Gandhi in an alleged attempt to "fix" Finance Minister Arun Jaitley during the UPA regime and accused the Modi government of acting with "ulterior motives" in the National Herald case.
He said the probe by Serious Frauds Investigation Office (SFIO) into the Delhi and District Cricket Association (DDCA) affairs was referred by the then sports minister Ajay Maken on some complaints he had received.
"There are reports that when Ajay Maken was the Sports Minister, complaints were received and those complaints were referred to the SFIO.
"I have not read the SFIO report. Therefore I cannot comment. Seems a bit unfair to drag the name of Mrs Gandhi. Mr Maken is in the best place to explain who referred the matter to SFIO," he said.
Mr Chidambaram was commenting on an interview given by Mr Jaitley to a newspaper in which he had alleged that a BJP lawmaker had met Ms Sonia Gandhi during the UPA tenure "and they said they will fix Jaitley."
Though Mr Jaitley did not name the lawmaker, the newspaper suggested it was Mr Kirti Azad, who has been running a campaign against alleged corruption in the Delhi cricket body DDCA.
On the Congress charge of BJP and Modi government practising vendetta politics against the party, he said if Subramanian Swamy's complaint in the National Herald case was a private one "the government should have said we are completely neutral and we are completely indifferent to what happens to that complaint. BJP leaders and ministers should not have spoken on the matter."
But on the day the Delhi High Court pronounced the judgement, Mr Chidambaram said "virtually every BJP leader jumped with both feet and started commenting freely."
As early as August of 2014, three months after they came to power, senior BJP ministers commented that there is prima facie case in the National Herald complaint.
"Why should the BJP minister or BJP leaders comment on a case if it is a purely private complaint?," he asked.
Asked on the criticism about Mr Jaitley's Facebook post on the case which critics said was a direction to the enforcement agencies, Mr Chidambaram said "there is a very strong reason to believe that the government is acting with an ulterior motive."
Without naming Mr Swamy, he said the private compliant wrote to Prime Minister on August 13, 2015 complaining against the then Enforcement Directorate head Rajan Katoch and five days later he "was virtually sacked."
"I am told that letter is in public domain," he said.
Asked who in the government was driving the probe in the National Herald case, he said "I cannot answer that question. I don't know who is in and who is out. I can speak generally about government."
["source-ndtv"]