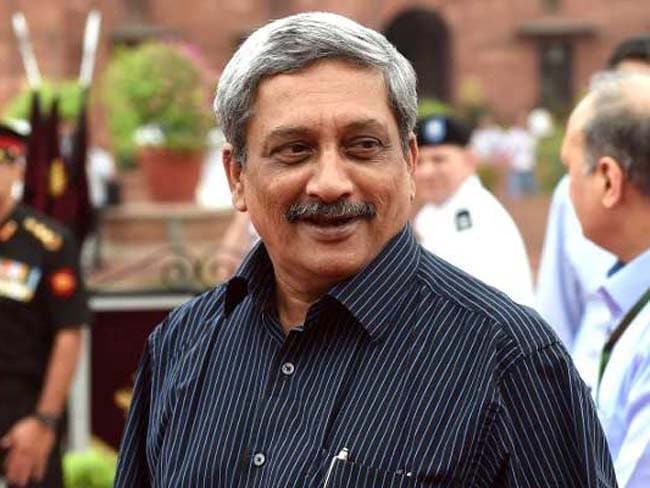 NEW DELHI: 
Defence Minister Manohar Parrikar today said the much-awaited new simplified Defence Procurement Procedure with focus on 'Make in India' initiative will be out soon, and a Defence Procurement Manual will also be finalized by June next year.
Addressing the Consultative Committee attached to his ministry in Delhi, Mr Parrikar said that the current Defence Procurement Procedure (DPP) is under amendment and is under the consideration of his ministry after a committee of experts headed by Dhirendra Singh had submitted its report.
The Committee was appointed to evolve a policy framework to facilitate 'Make in India' in defence manufacturing, align the policy evolved with DPP-2013 and suggest requisite amendments in DPP-2013 to remove bottlenecks in the procurement process and also simplify and rationalise various aspects of defence procurement.
Along with this, the Defence Procurement Manual is under the process of internal vetting and is expected to be finalised by June end of 2016, a statement by the ministry said.
Top defence sources have said that the new DPP is likely to be out this month itself.
The DPP has evolved to DPP-2013 through an iterative process since the first DPP in 2002 (2003, 2005, 2006, 2008, 2011 and 2013).
It encapsulates the experience gained in implementing the procurement process over the years, feedback from the stakeholders – user services, quality control and maintenance agencies, defence finance, administrative wing and industry.
Amendments are carried out continuously keeping in view the requirements of all stakeholders.
In DPP-2013, the acquisition of weapon systems and equipment for the Armed Forces flows from the Long Term Integrated Perspective Plan (LTIPP). The current LTIPP spells out the capability desired to be achieved by the Armed Forces over 15 years duration (2012-27).
The Categorisation Committees while considering categorisation of all capital acquisition under the Defence Procurement Procedure, follow a preferred order of categorisation, in decreasing order of preference – Buy(Indian), Buy & Make (Indian), Make, Buy & Make, Buy (Global).
This hierarchy of categorisation clearly marks a shift towards indigenous equipment.
Taking part in the discussion, Members of Parliament suggested that the government should give incentives under the Buy (Indian) and Buy & Make (Indian) categories.
They also said that PSUs should also be allowed to bid for Buy (Indian) category and that offsets should be in terms of overall requirements of users.
The lawmakers who attended the meeting included Pinaki Mishra, Saugata Roy, A Seetaram Naik, Rajeev Chandrasekhar, Mahendra Prasad, TK Rangarajan, Bhupender Yadav, and Samsher Singh Manhas.
["source-ndtv"]