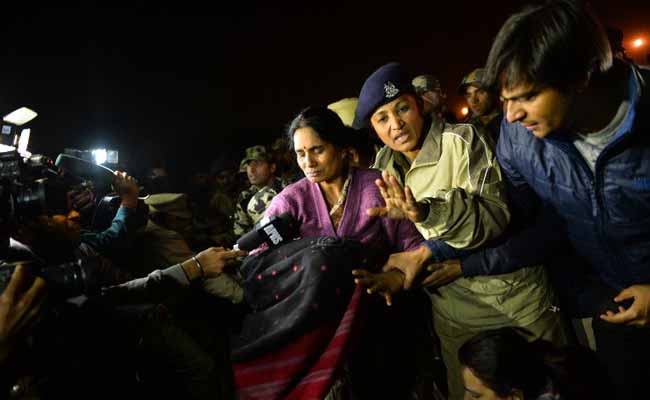 NEW DELHI:  Hundreds of protesters who had gathered at India Gate today to oppose the release of the youngest convict in the Delhi gang-rape case, were detained by the police. Among them were the parents of paramedical student Jyoti Singh, who were leading the protests. The 20-year-old convict was released earlier today from a correctional home, he will now be under the care of a non-profit.
Here are the latest developments:
The police had declared Section 144 at India Gate — where thousands had braved water cannons three years ago. But the protesters gathered on Rajpath near India Gate, with plans to hold a candle-light vigil. (5 Pics)
The man was a few months short of 18 years on December 16, 2012, when he and five others had raped 23-year-old Jyoti Singh. He was freed today after the Delhi High Court refused to stay his release, saying the law doesn't allow keeping him in further detention.
He will be monitored by the Juvenile Justice Board, with help of an NGO until the Delhi government prepares a post-care plan. The government has said a one-time financial grant of

Rs.

10,000 and a sewing machine will be given to him so he can make a living as a tailor.
The Supreme Court has said it will hear a petition filed yesterday against the release by the Delhi Women's Commission. The commission challenged the release today, calling the matter sub judice.
Pointing to the delay in filing the petition, Jyoti's mother Asha Singh has said the women's panel's move was "just for show" and that they were let down by the Centre and the Delhi government.
The Centre said it had opposed the convict's release. Minister of State for Home Kiren Rijiju said, "In principle, the central government opposed the release of the juvenile offender at this stage."
Swati Maliwal, the chief of the women's panel, attributed the delay to consultations with legal team. In its plea, the panel has claimed that during his stay in the correctional home, the convict showed a lack of remorse about his action and he has been further radicalised.
On the evening of December 16, 2012, the juvenile and five others had raped the 23-year-old woman and tortured her male friend after luring them into a bus. She died at a hospital in Singapore after battling for life for 13 days.
The maximum punishment under the Juvenile Justice Act is three years' confinement at correctional homes. But his part in the crime had triggered a nationwide debate on treating juveniles as adults in cases of heinous crimes.
A bill to this effect has been passed by Lok Sabha but still pending in the Upper House of Parliament.
["source-ndtv"]