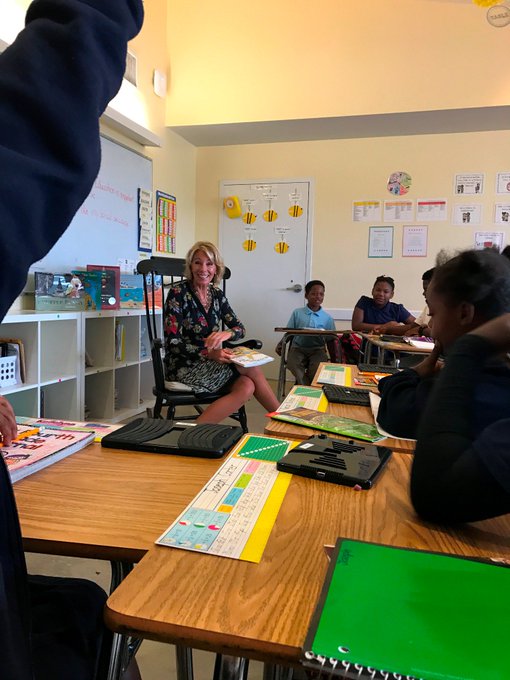 MIAMI-DADE, Fla. – U.S. Education Secretary Betsy DeVos, a longtime advocate of charter schools, was visiting both private and public educational institutions during a busy two-day schedule in Miami-Dade.
DeVos traveled in a sports utility vehicle under the guard of Secret Service special agents. She started her Thursday morning at the Christian Academy for Reaching Excellence Elementary School in Miami's Overtown, a formerly segregated neighborhood.
Homeless people looking for food at the Miami Rescue Mission regularly sleep on the streets near the school on Northwest First Avenue near Perimeter Road. The school is also a few blocks away from the aging Paul Laurence Dunbar public elementary school, where a teen was shot dead over headphones.
"Every kid deserves a great education and schools like CARE Elem. in Miami are making that possible for kids who may have otherwise struggled," DeVos tweeted after the visit.
On social media, CARE's administrators tout a safe environment with access to technology and extracurricular activities. They count on the help of private benefactors including Odebrecht, Keyes, Valero Texas Open, Home Depot and AmTrust Bank.
The Miami Rescue Mission's Board of Directors founded CARE in 2015 with about 80 students. They had the help of the Florida Department of Education's tax credit scholarship program. Former Florida Gov. Jeb Bush's foundation, which advocates for privatization, is a supporter.
The law provides state tax credits for contributions to the nonprofits Academic Achievement Accessible Scholarship Foundation in Tampa and the Step Up for Students in Jacksonville this year. The Florida tax credit cap for 2016-2017 was about $559 million. It's expected to be higher next year, and DeVos said it's "a model to be looked at" nationwide.
DeVos' busy day continued with a tour of the Nicole Wertheim College of Nursing and Health Sciences at Florida International University, a public research university in Miami-Dade.  Alexander Acosta, President Donald Trump's nominee for labor secretary, is the dean of FIU's law school.
Esi Finn-OBeng, an FIU student, held up a sign: " 'Failing public schools' are code words for racism and classism."
In one of the most affordable four-year universities in Miami-Dade, students told DeVos that more needed to be done about the affordability of a college education. After meeting Victoria and her baby, Matthew, the two mannequins at the nursing school, during a tour with FIU President Mark B. Rosenberg, DeVos also met with Superintendent Alberto M. Carvalho and the FIU trustees.
Outside of their private meeting, a few protesters at FIU hoped to confront her about the criticism that she faced during her nomination. Many opponents of privatization attacked DeVos over her lack of experience with public education.
A student held a "Bearly Qualified" sign, as a crowd chanted: "Protect our schools!"
One protester got close. "You don't know anything about schools," he shouted, as she walked away and into an elevator. A video circulating on social media showed the protester also asked her about her brother Blackwater founder Erik Prince, and his alleged ties to Russians close to Putin. The protester heckled her: "Can  you tell us about your brother's deal with the United Arab Emirates and the Russians to buy your cabinet position?"
After ignoring a small protest, DeVos sped away from FIU for a meeting with Armando Perez, better known worldwide as Pitbull. She and the Grammy-winning rapper spoke at Sports Leadership and Management, a charter school he co-owns in Miami's Little Havana neighborhood.
Although Pitbull's school gets public funding, the charter school is managed by for-profit Academia. Fernando Zulueta, who is related to former state legislator Erik Fresen, founded Academia.
The superstar, who was also a marketing ploy for Visit Florida, didn't perform his sexually-explicit "Toma" or dance to "Timber," a song about women "twerking in their bras and thongs" and his drinking at a nightclub.
Pitbull also didn't talk about the resources that public schools are losing to charter schools like SLAM, which opened in 2013. According to a 2015 analysis by The Associated Press and The Miami Herald the state gave more than $760 million to charter schools since 2000, of which as much as $70 million in capital funding were lost to schools that later closed.
DeVos' Friday schedule includes plans to visit the Royal Palm Elementary School, an A-grade public school near the Kendall neighborhood in Miami-Dade and Miami-Dade College's Wolfson Campus in downtown Miami.
Pitbull and DeVos at Slam
Apr 6, 2017 at 11:26am PDT
Copyright 2017 by WPLG Local10.com – All rights reserved.
["Source-local10"]