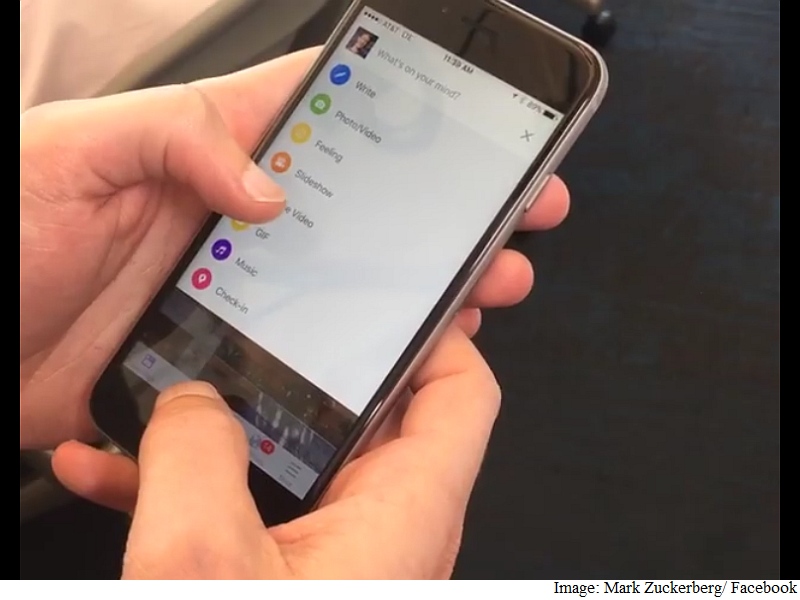 Facebook CEO Mark Zuckerberg last week showed off a new build of the social network's mobile app that features a revamped interface. Its redesigned elements are aimed at making it faster to post updates.
Zuckerberg introduced the new build on an iPhone during the expansion announcement (seen at the end of the article) of Facebook Live, when he was demonstrating the changes users would see with the video live-streaming service. "You might have seen some stuff in there that we're just playing around with and testing," Zuckerberg said at the end of the video announcement.
Some of the changes seen in the mobile app include an ever-present, floating 'What's on your mind?' box, which, when tapped, provides a list of posting options, from notes, photos, feelings, check-ins, and Live video, and even options not yet available to users – sharing gif images, music, and slideshows.
A Facebook spokesperson elaborated on the new sharing options to The Verge, saying, "We've re-designed the 'What's on your mind?' menu at the top of your News Feed to inspire people and make sharing on Facebook more fun and dynamic. Tapping on 'What's on your mind?' will now bring up a menu of all of the different ways you can share, including options like posting photos and video, feelings, or checking in to a place."
The report adds that various interfaces are already in testing with users, with at least four different iOS versions spotted in the wild. Zuckerberg at the end of the video clarified that not everything seen in the video was going to be launched, adding, "Some of it will over time." Facebook has in the past adopted this approach, rolling out updates to select audiences and testing reactions before finally bringing an optimised version to the general public.
Improvements to the sharing process could not come at a better time it appears; with a recent reportby The Information pointing out that Facebook had been seeing a drop in personal content sharing in the past few years, with overall sharing falling 5.5 percent from mid-2014 to mid-2015, and personal sharing plummeting 21 percent in the same period.
["source-Gadgets"]