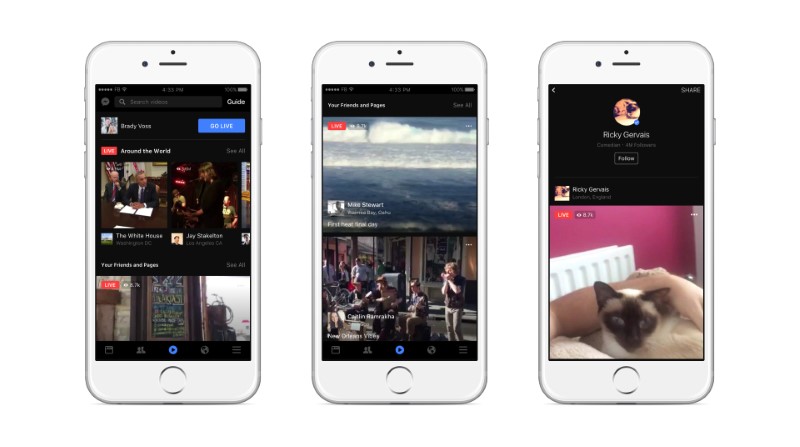 At a Facebook Live launch event in Hollywood on Wednesday, Will Cathcart, Facebook's vice president of product, told Reuters that the company has paid some partners to supply video in order to get Live off to a quick start, although he expected media companies would make money from advertising and other services longer term.
Time has been paid to use Facebook Live, a source with knowledge of the partnership told Reuters. Vox Media Inc's eight brands, which include Vox and Re/code, also have been paid by Facebook, another source told Reuters.
Re/code tech news site said Facebook is paying The New York Times, BuzzFeed and the Huffington Post, as well.
Thomson Reuters and Conde Nast Entertainment also will work with Facebook Live, spokespeople said. Thomson Reuters is the parent of Reuters News.
Facebook has expanded its live video product, Facebook Live, giving the feature prominent placement on its app and rolling out features to make it easier for users to search and comment in real time.
The move is the biggest challenge yet by Facebook to online rivals, including Twitter's Periscope live-streaming service, Snapchat's video features and Alphabet's YouTube, as well as a potential threat to broadcast television.
Live video is becoming a highly competitive feature on social platforms, with companies competing to stream major sports events and exclusive video components from high-profile events such as the Oscar and Grammy awards shows.
Advertisers are particularly attracted to video that reaches a younger audience.
Facebook Live, which offers streaming video in real time, was launched last year. On Wednesday, it added features, including a map of video streams around the world, expanded search and filters that echo those on other platforms. Videos can be turned into black-and-white shots, like on Facebook's Instagram, for instance, and soon users will be able to add doodles, a nod to a feature on Snapchat.
Product head Chris Cox hosted a live video session Wednesday to advertise the product, and said Facebook hopes it will be used for everything from intimate family moments, such as a baby's first steps, celebrity-hosted question-and-answer sessions and breaking newscasts.
© Thomson Reuters 2016
Download the Gadgets 360 app for Android and iOS to stay up to date with the latest tech news, product reviews, and exclusive deals on the popular mobiles.
["source-Gadgets"]