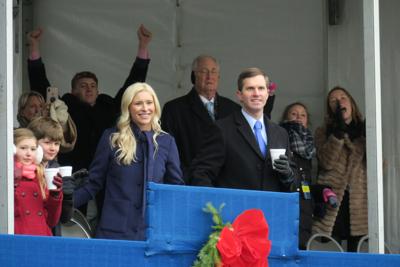 LOUISVILLE, Ky. (WDRB) — In his first official act as governor Tuesday, Gov. Andy Beshear reorganized the Kentucky Board of Education by executive order and set into motion the likely ouster of Education Commissioner Wayne Lewis.
Beshear, the first governor to completely overhaul the state education board, announced the reorganization during his inaugural address on the steps of the Capitol.
"This morning, I reorganized the state board of education and appointed new members who support public education," Beshear wrote in his prepared remarks. "These members were not chosen based on any partisan affiliation, but based on their commitment to make our schools better. To put our children first."
Ten of the 11 voting members of the former board, however, have challenged Beshear's executive order in a lawsuit filed late Tuesday in Franklin Circuit Court. Only Amanda Stamper, a former spokeswoman for Gov. Matt Bevin, did not sign onto a letter announcing the legal action.
They'll be represented by attorney Bart Greenwald, of Louisville-based Duncan Galloway Egan Greenwald.
Former board member Rich Gimmel said they hope to have a hearing before a judge early Wednesday at the earliest to consider an injunction to keep Beshear's executive order from taking effect.
Former board member Gary Houchens said the 10 board members believe Beshear's reorganization "is of questionable legality and must be tested in the courts." He told WDRB News that board members are paying their own legal expenses and acting in their individual capacities.
"Unlike other Kentucky government boards, the make-up of the KBE is governed by the Kentucky Education Reform Act, which provides a clear process for a new governor to appoint new members to the KBE on a staggered basis, every two years," Houchens said in a statement.
"Board members today are seeking to set aside the governor's order and allow an orderly transition of board control over a two year period, as intended by KERA."
Greenwald added that state education board members can't be removed without cause under state law. He said the lawsuit will be filed late Tuesday.
As attorney general, Beshear challenged Bevin's 2017 reorganization of other education-related boards and lost at the Kentucky Supreme Court. He's said that opinion gives him the authority to reorganize the Kentucky Board of Education.
Voting members Beshear's newly appointed board are:
Former Kentucky Board of Education Chairman and state Sen. David Karem, of Louisville
Former University of Kentucky President Lee Todd, of Lexington
Holly Bloodworth, of Murray
Patrice McCray, of Bowling Green
Mike Bowling, of Middlesboro
Sharon Porter Robinson, of Louisville
Lu Young, of Nicholasville
JoAnn Adams, of Pleasureville
Cody Pauley Johnson, of Pikeville
Claire Batt, of Lexington
Alvis Johnson, of Harrodsburg
Beshear's executive order names Karem as the new chairman of the 11-member board until the panel can elect one. Karem did not respond to messages seeking comment.
The terms of Todd, Karem, Batt and Johnson, all at-large members, will expire on April 14, 2022. Other terms of those representing Kentucky's seven Supreme Court districts will expire April 14, 2024, according to the executive order.
An active elementary or secondary school teacher will serve as a non-voting member of the board alongside Council on Postsecondary Education President Aaron Thompson and Lt. Gov. Jacqueline Coleman, who will serve as secretary of the Education and Workforce Development Cabinet, as ex officio members, according to Beshear's executive order.
Beshear appointed Allison Slone, a teacher at McBrayer Elementary School in Morehead, to the newly created seat in his order.
The Democratic governor, who relied heavily on teachers and public education in his campaign, fulfilled his promise to reorganize the state's education board on the first day of his administration, arguing that the panel comprised of Bevin's appointees and Lewis aren't supporters of public education.
Lewis and board members have been vocal supporters of school choice reforms like charter schools.
"I hope the current commissioner takes a minute and realizes that he's got a future out there and that a governor deserves a commissioner that they share the same principles and vision for education," Beshear said in a recent interview with WDRB News. "For me, that's public education."
The state education board's chairman can call a special meeting with 24-hour notice, as happened once Bevin had appointed all members in April 2018. Kentucky's education commissioner is the board's only employee.
Former Education Commissioner Steven Pruitt ultimately resigned after a lengthy closed session that day. The board installed Lewis as interim commissioner and later offered him the job outright in October 2018.
The newly elected governor's criticisms didn't sit well with Lewis, who complained during last week's Kentucky Board of Education meeting that Beshear had mischaracterized his record on and commitment to public education.
"Check the work and my record from the time that I've been commissioner of education in terms of my commitment to public education, the advocacy that I've had for continued improvement, the advocacy that I've had for record funding to support the work that we do," Lewis told reporters Wednesday.
"If you don't like me, then just say that you don't like me, and I can respect that, but don't malign my record, my background or lie about what I've done."
Lewis has said a Beshear-appointed board, if legal, must give him a 90-day notice if it terminates him without cause.
In a statement, the education commissioner the Kentucky Department of Education "will be communicating with newly appointed board members this evening" to share "pertinent information with them about the work of the board and the department."
"Almost 650,000 students will walk into a Kentucky public school tomorrow," Lewis said Tuesday. "Every single instructional day matters for them. Regardless of what is happening politically, our focus should remain on them."
While former board members are challenging Beshear's move in court, groups representing teachers and other education advocates signaled their hope to move forward with the newly appointed board.
"Under the previous Administration, board appointees were based more on political pedigree than on their experience and knowledge of educational issues," Kentucky Education Association President Eddie Campbell said in a statement. "… The students of Kentucky deserve a board of education that works for the improvement of public education and not for partisan purposes."
The grassroots advocacy group KY 120 United, which has been pivotal in coordinating most demonstrations by teachers during recent legislative sessions, said its happy that Batt, one of its members, has been appointed to the board by Beshear.
"We are incredibly pleased to say that we as public educators are finally being directed by a board who has public education and the future of Kentucky's children in their best interest," KY 120 United said in a statement.
Gov. Beshear Kentucky Board of Education Executive Order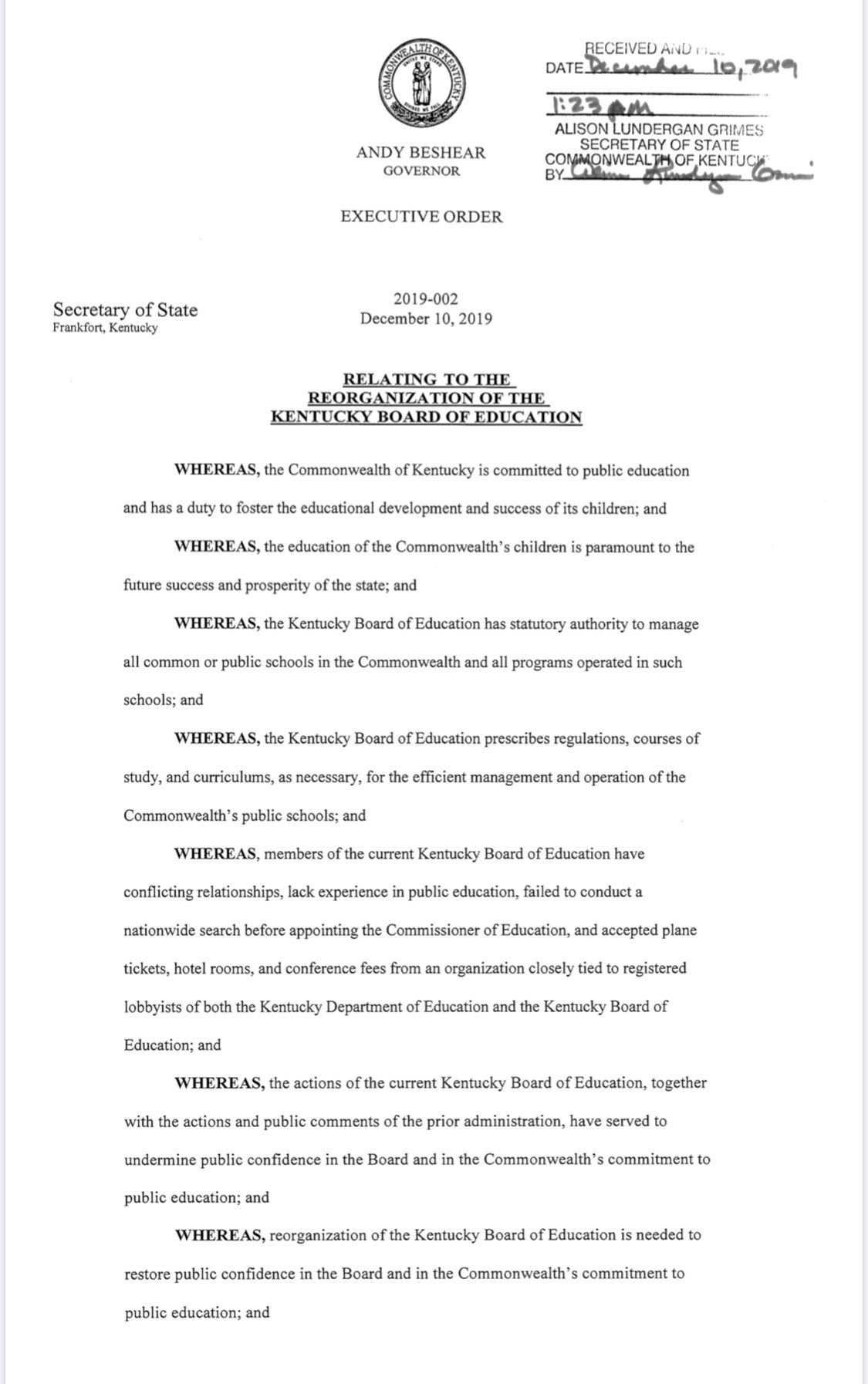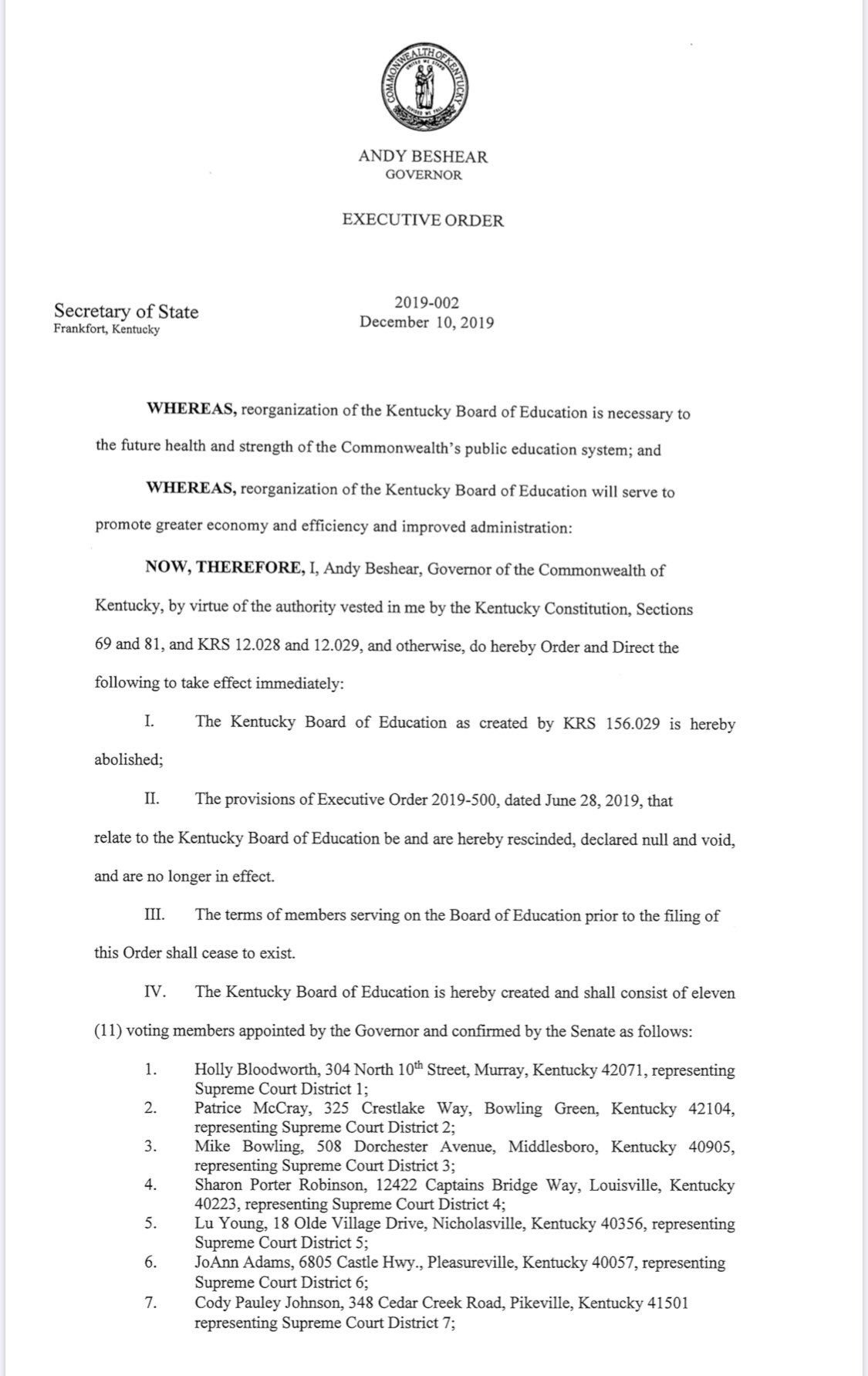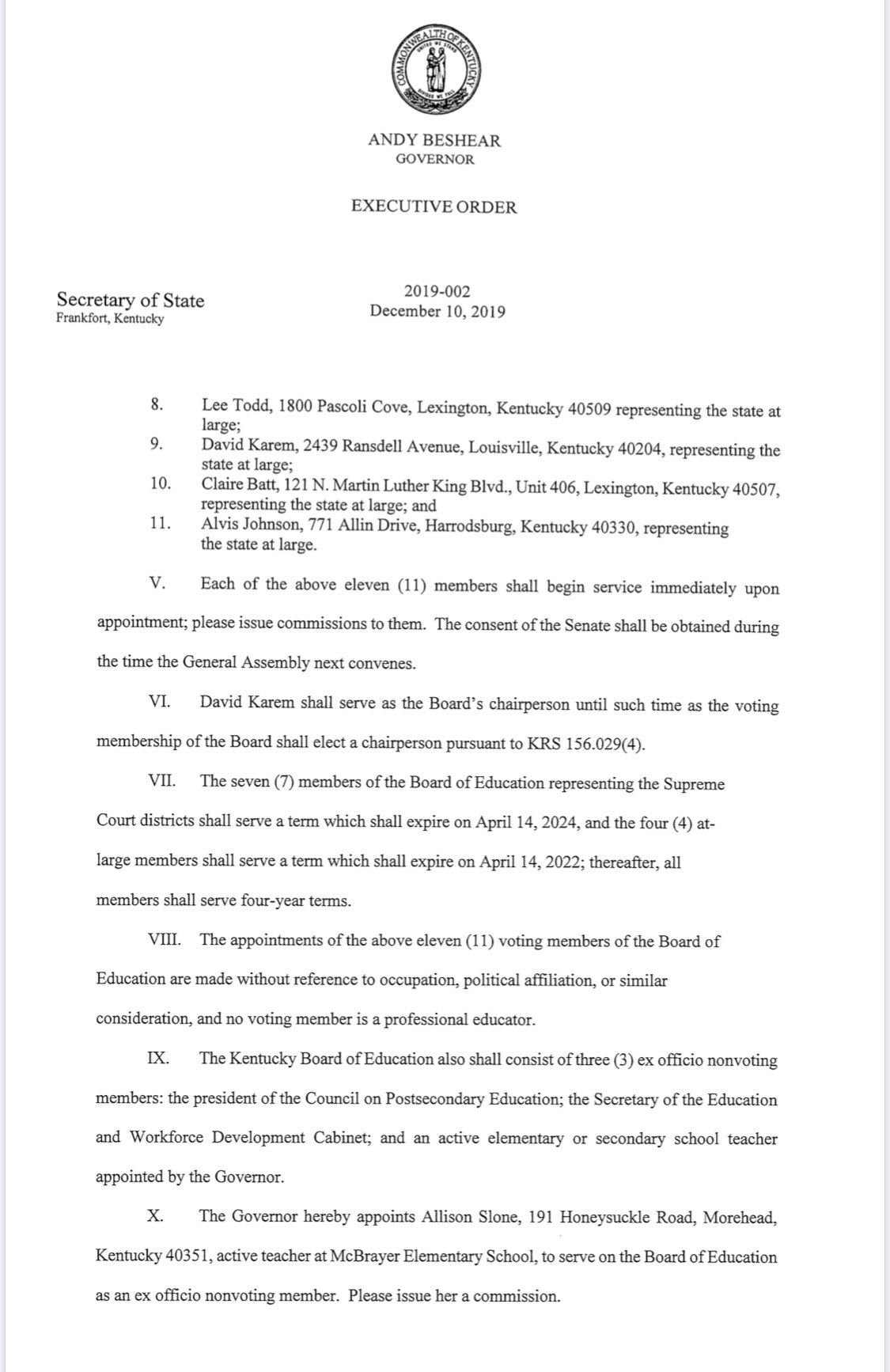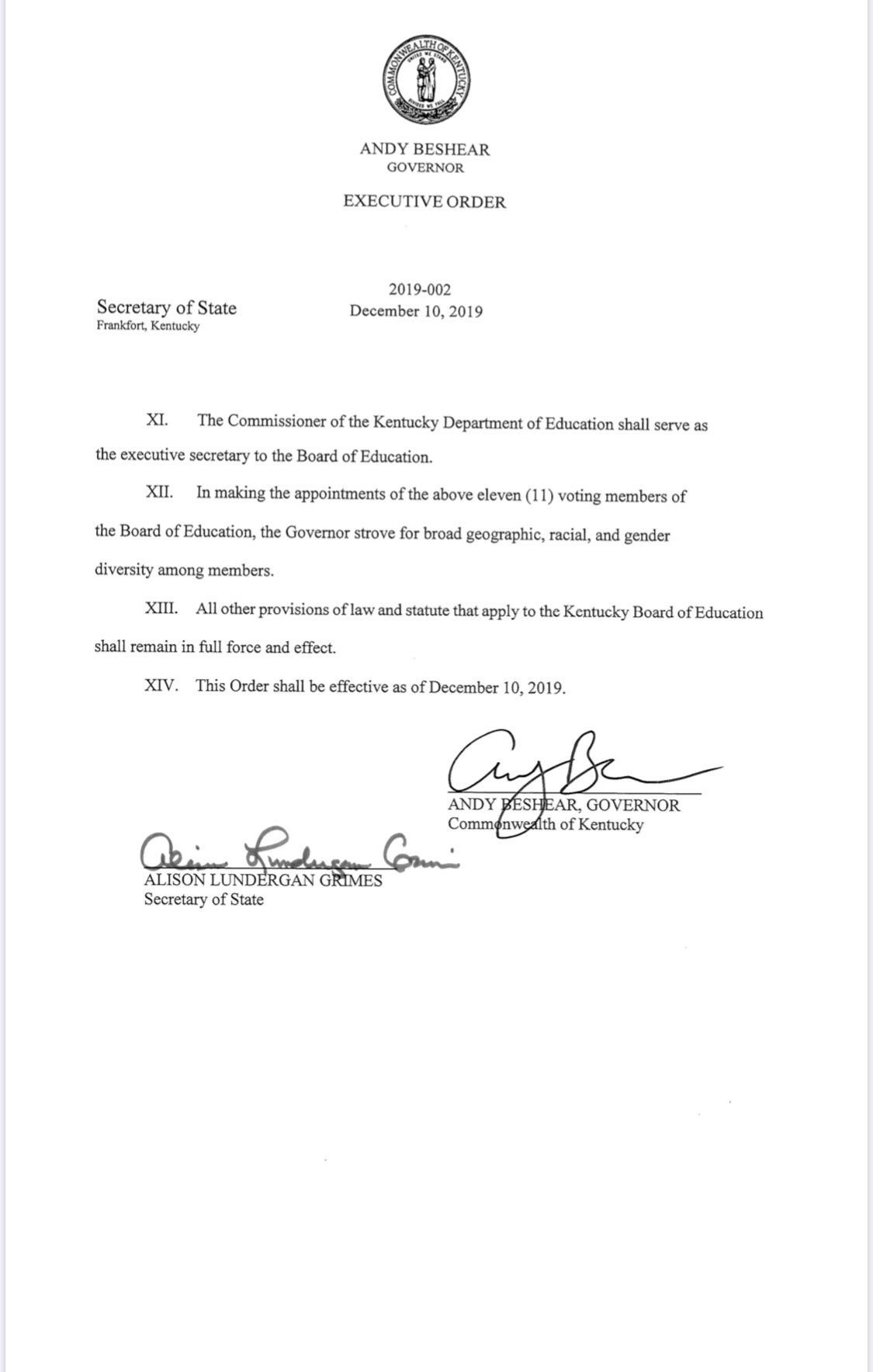 JCPS board member Chris Brady said he thinks the move will be positive for the district and others across the state.
"I really appreciate the governor trying to right the ship and fix these wrongs," Brady said Tuesday night. "Because you have a board of education that understands public education, supports public education and isn't trying to tear down and destroy public education."
["source=wdrb"]