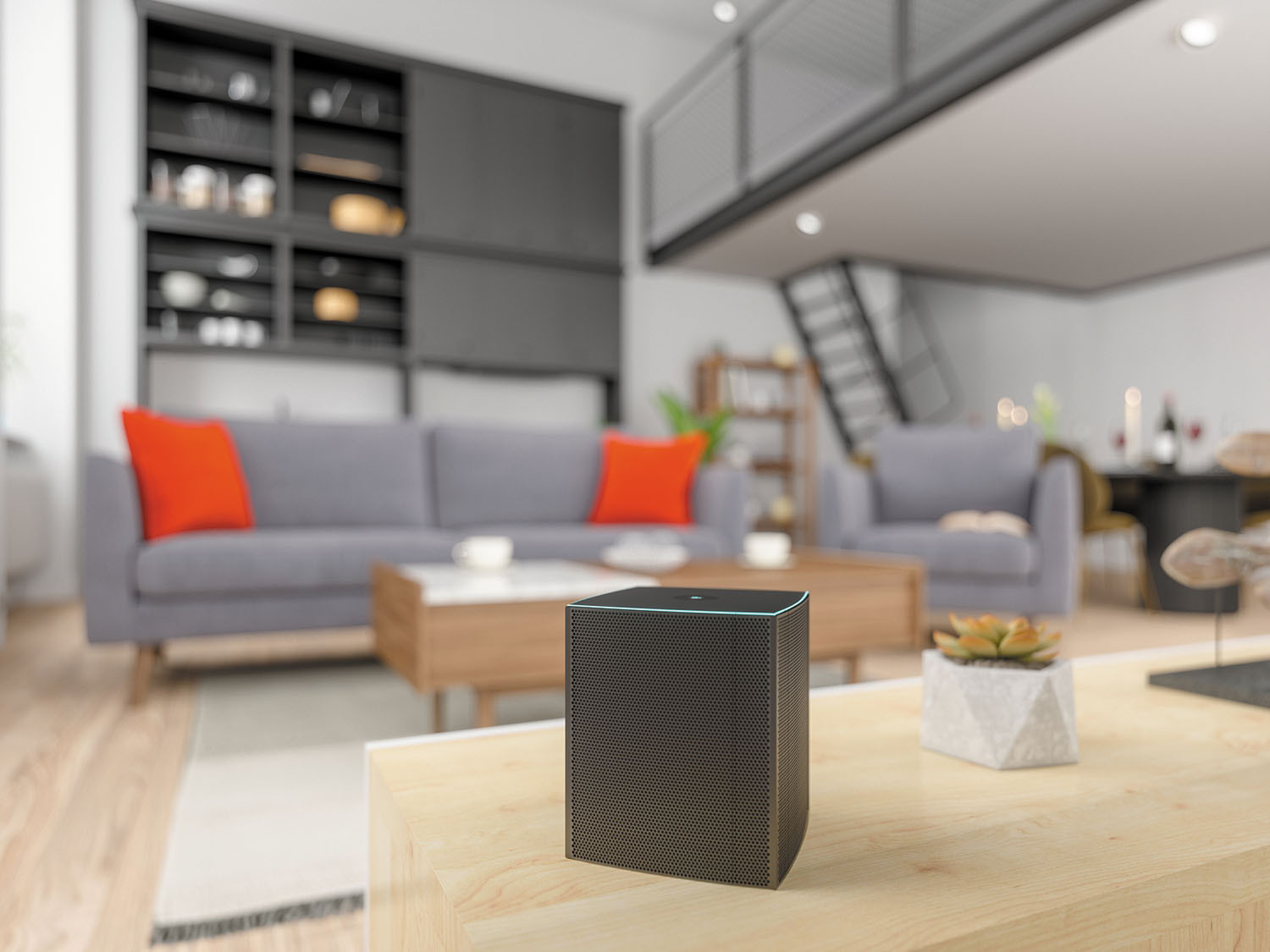 John was in trouble: The 84-year-old wound up on the floor after sliding out of a chair. While unhurt, John couldn't get up. He lived alone and couldn't reach his cellphone, house phone, or alert button; all were on a table next to his chair. After three long hours trying to inch across the floor, John remembered that his "smart" speaker (activated by voice commands) was connected to his smartphone. John called out for the speaker to dial his daughter, who sent help right away.
Electronic gadgets like smart speakers can be a great addition to the home. But a smart speaker won't save the day in every emergency. Before investing in a gadget for security, learn about its potential limitations.
Smart speakers
Small tabletop smart speakers have integrated computer programs ("virtual assistants") that connect to the Internet, understand your voice commands, and carry out tasks. For example, you can tell a smart speaker to play music, audiobooks, or news and weathercasts; retrieve information from the Internet ("What's the recipe for three-bean chili?"); create medication reminders and calendar events; and even place grocery orders. Connect your smart speaker to a smartphone, and you can make hands-free calls. Connect the speaker to "smart" home devices (lights, thermostats, security systems, and more), and you can control them with voice commands.
Price: They range from $40 to $400.
Pros: A smart speaker is easy to use once it's connected properly; you simply call out a question or command. The device is always plugged into a wall, so you don't have to charge it. In emergencies, you can tell a smart speaker to call a contact for help, as John did.
Cons: A smart speaker may be hard to set up if you're not tech-savvy, and it's not portable enough to take wherever you go. While the speaker can call your contacts, it may not be able to call 911 (regulatory hurdles mean that some speakers require an additional device to do that). The speakers have a limited listening range; they won't hear you from another room, and they may not hear you if your voice is soft or if there's background noise like a loud TV. Another problem: not all 911 operators can pinpoint your location when a call comes from a "smart" device, because of varying 911 technology, so you'll have to be able to give your exact address, which may be hard if you're ill or confused.
Mobile phones and smart watches
Any mobile phone allows you to dial a number for help. But some are designed for older adults to make the process easier. These phones feature large keypads and a special emergency button that will call or text a family member or call 911. That's in addition to all of the other features of most mobile phones, such as cameras, text messaging, and global positioning systems (GPS) that use satellite signals to map your location.
Phones for older adults are available in two versions: flip phone or flat smartphone. Some adult smartphones also have built-in or downloadable virtual assistants, enabling them to do the job of a smart speaker.
You can also wear a "smart" watch — a wristwatch that allows you to call, text, and use many of the same functions of a smartphone — as long as the watch is within range of your smartphone or your home computer network. Many smart watches also track basic health, such as your daily steps or heart rate. Unlike smartphones, which may not be with you at all times, a smart watch is always close at hand.
Price: Phones designed for older adults range from a few dozen to a few hundred dollars. You'll also need monthly cellular service, which starts at about $10 to $20 per month and increases depending on the amount of phone time or Internet data you use. Smartphones and smart watches that aren't designed specifically for older adults range from about $200 to $1,500. These devices also require monthly cellphone service, and you can expect to pay an extra $10 per month for smart watch service.
Pros: You can use the phones anywhere cellular service is available. A phone eliminates the need for an additional emergency device and fees.
Cons: A mobile phone or smart watch must be charged on a regular basis. If the phone isn't in your hand during an emergency, you won't be able to make a call unless you have a virtual assistant that responds to voice commands. If you're not tech-savvy, it may be tough to operate any phone, especially if you're feeling confused during an emergency. And again, you'll have to tell a 911 operator your exact location.
Alert buttons
These wearable devices can summon help with the touch of a single button. There are dozens of available systems. Some use your house phone (landline) to dial monitoring centers; others have cellular phone technology. In either case, call center operators direct emergency responders to your location.
There are lots of bells and whistles to choose from, like a daily "check-in" call to see if you're okay, GPS technology to pinpoint your location, the ability to call loved ones, fall detection (which triggers a call for help if it senses a fall), and waterproof covers so you can wear a button in the shower (where many falls happen).
Price: The buttons may be free or cost about $50. They all come with a monthly monitoring charge that ranges from about $25 to $50 per month, depending on the options. Some companies charge one-time activation fees of $100 to $200.
Pros: An alert button is easy to use. You can wear it around your neck or on your wrist, or keep it in your pocket. You can take it to bed, into the bathroom, into the shower or tub (if it's waterproof), or even shopping (if the button has cellphone technology). Buttons that connect to your landline have batteries that last for years and don't need to be recharged. Also: operators have the ability to direct paramedics to your location based on GPS or the address you provide when you sign up for service.
Cons: Some buttons require lengthy contracts. A system that connects to your landline works only at home, not when you're out and about. Buttons with cellphone technology must be charged every few days and won't work if the battery runs out. Also: no matter which kind of button you have, you can't use it if you forget to wear it and it's out of reach.
Which one is best for you?
To make your decision, think about your health and abilities. "Are you easily overwhelmed? If so, avoid complicated systems. Do you speak softly? A smart speaker may not hear you. Do you have trouble remembering things? Consider a system that doesn't require charging," says Dr. Suzanne Salamon, associate chief of gerontology at Harvard-affiliated Beth Israel Deaconess Medical Center.
Dr. Salamon also suggests thinking about how often you leave home. If you have a device that connects only to your landline, it won't help if you go out of range; a button with cellular service goes anywhere.
And if possible, add more than one layer to your safety net, like John did. "Being able to say you know how to reach 911 in many different ways makes sense to me," says Dr. Joseph Kvedar, a Harvard Medical School professor and president of the American Telemedicine Association.
He also says to watch for this emerging trend: personal emergency response systems that integrate several tools, such as a smart speaker that connects to your alert button and can send notifications about your whereabouts to other family members' smartphones. This technology is so new, it may be hard to find right now. But ask about it when you're checking out systems.
Need more help?
Ask your family or friends for input about which device is right for you. But keep in mind: "Many times, adult children get something the parent doesn't want or know how to use," Dr. Kvedar notes. He advises being as frank as possible, so you get the system that suits your needs and abilities.
If you're not sure you can handle a device's technology, watch a video online. Many companies post instructional videos on their websites or on a video platform such as YouTube. Just search for the name of the system. You may be pleasantly surprised to learn how easy a system is to use and how simple it can be to call for help.
source: harvard