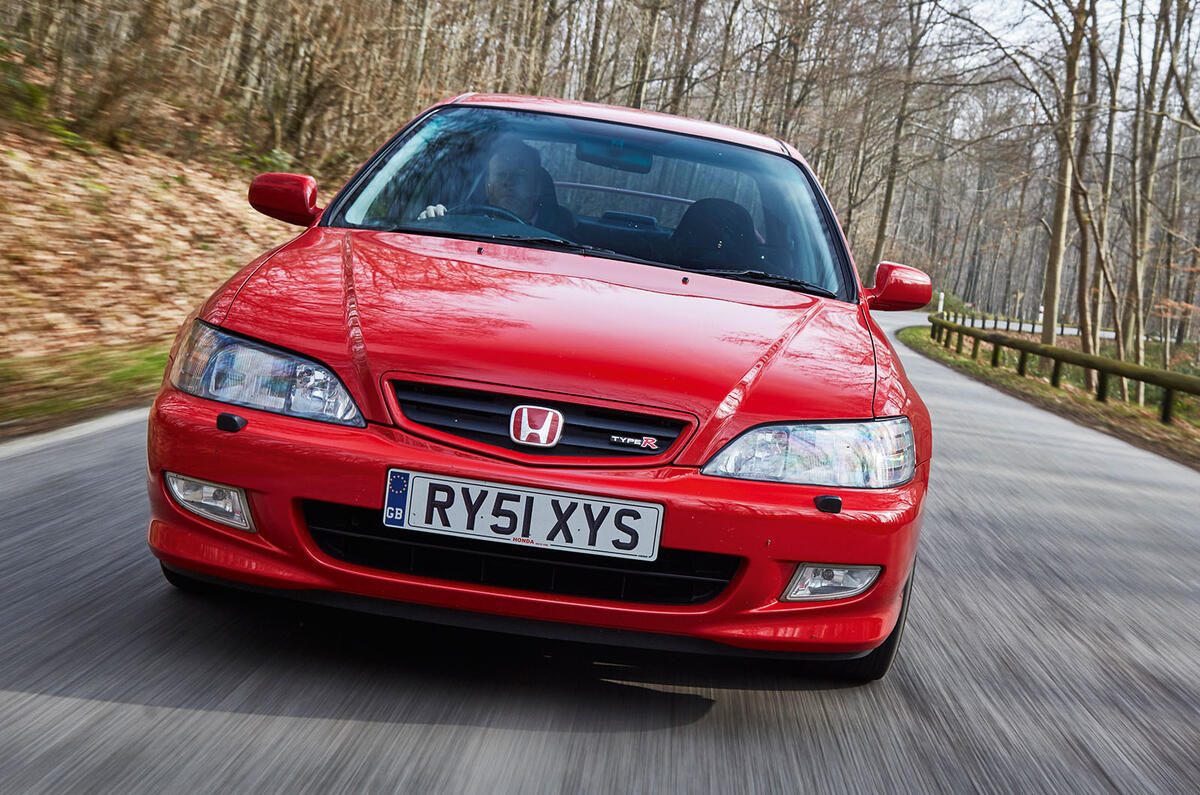 With only around 600 on the roads and another 350 SORNed in lock-ups keeping dry, if any muchpraised 1990s sports saloon has the whiff of future classic status around it, it's the Honda Accord Type R of 1999 to 2003.
Note: 'future'. Although excited owners claim to have spotted prices stirring, you can still pick up a wellmaintained 2002 example with around 130,000 miles for between £2500 and £3000. Even a same-age, sub-100,000-mile car with a good history is unlikely to be much more than £4500. But those are cars for sale, and there aren't many of them. The best ones are in the care of people in no hurry to sell, and with an eye on future returns.
They're confident because the Accord Type R is so good. Its 2.2-litre four-cylinder VTEC engine thrives on revs, producing 209bhp at 7200rpm – ample compensation for its modest 159lb ft at 6700rpm. It cracks 0-62mph in about 7.0sec. Not hugely quick by today's standards, but if that were the car's only goal, perhaps Honda would have fitted a turbocharger. Instead, it fitted something far more intelligent (and useful): a Torsen limited-slip diff.
And while practical types purr over the Accord's saloon body, those with an eye on torsional rigidity know that such a structure spells good news in the handling department. Furthermore, it was beefed up with a strengthened rear bulkhead (the rear seats don't fold as a consequence). Add a kerb weight of a little over 1300kg, multi-link double-wishbone suspension and a rapid rack and pinion steering set-up and you've a family car that runs rings around its contemporary front-drive rivals.
Being a Type R, it has other desirable stuff. Outside: a bodykit, chrome tailpipes, a rear spoiler (it could be deleted from the spec if the owner desired) and 17in alloy wheels. Inside: Recaro seats, a Momo leather steering wheel and titanium alloy gearknob, and carbonfibre trim with white dials.
The model was facelifted in 2001. You can tell the later cars by the slatted grille in place of the old mesh one, a red 'H' badge and black tailpipes. Meanwhile, 0-62mph was a few tenths quicker (6.7sec) and the gearbox synchros were strengthened (so said Honda at the time).
The engine's a thoroughbred that thrives on TLC: cambelt changes, fresh oil, the occasional EGR spring clean plus a good hot run to keep the VTEC system beating. Expect suspension components (bushes, drop links) to be tired by now but replacement is relatively straightforward (and a good excuse to fit stronger polyurethane parts).
Rust is your number one enemy. It lurks unseen around the bulkhead and even owners aren't aware of it. For this reason, make sure the car has a fresh MOT. Assuming the body's sound and the engine's strong, buy an Accord Type R with confidence – and don't store it. Instead, put it on the road, where it belongs.
[Source:- Autocar]