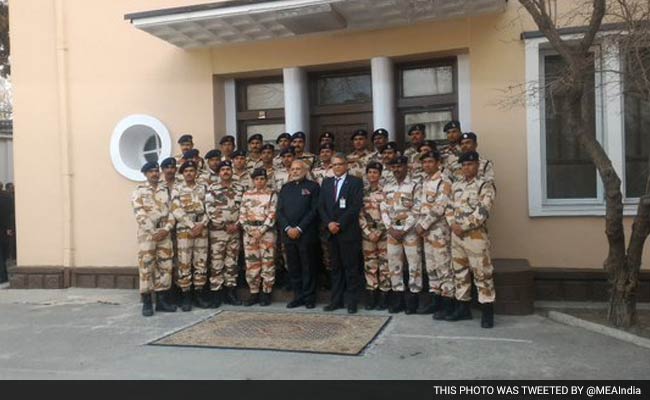 KABUL: 
Prime Minister Narendra Modi today spent some time with Indo-Tibetan Border Police (ITBP) troops deployed to secure the Indian High Commission in Kabul in Afghanistan as he lauded their courage and dedication by complimenting them with a 'keep it up' remark.
The armed contingent of paramilitary ITBP force is stationed to guard the facility and diplomatic staff here since 2002.
"The Prime Minister replied to the greetings of the troops with a 'keep it up' remark when he visited the High Commission. He clicked photographs with the contingent in the presence of Indian Ambassador Amar Sinha," a senior force official in Delhi said.
The troops were donning their patchy and cloudy camouflage combat uniform when they met Mr Modi, who was in Afghanistan on way from Russia for a brief visit as he inaugurated the new Parliament complex of the country besides other official engagements.
Apart from the main Indian High Commission complex in Kabul, the ITBP also guards India's four consulates in Jalalabad, Mazar-e-Sharif, Kandahar and Herat.
The force has about 300 commandos (both men and women) stationed at these five locations keeping in mind the threat emanating from terror groups like al Qaeda to Indian assets and people working in the Mission.
Indian facilities have seen at least two major attacks in the past in this country, once at the High Commission in Kabul in 2008 which killed over 50 people and diplomatic staff and a deadly attack on the Consulate in Herat last year.
In May 2014, the Indian consulate in Herat was attacked by four heavily-armed gunmen, who were subsequently killed in an encounter. India had attributed the strike to terror elements "beyond the borders" of the war-torn country.
The Haqqani network is blamed for several deadly attacks against Indian interests in Afghanistan including the 2008 bombing of the Indian mission in Kabul.
["source-ndtv"]