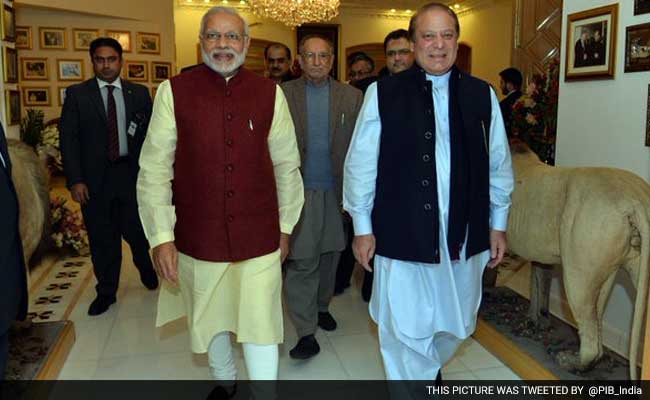 MUMBAI: 
Prime Minister Narendra Modi has taken a "courageous step" in boosting bilateral ties between India and Pakistan by his surprise visit to Lahore today, chairman of Observer Research Foundation Sudheendra Kulkarni said here today.
Mr Kulkarni, who faced an ink attack by Shiv Sena workers for hosting former Pakistan Foreign Minister Khurshid Mahmud Kasuri in Mumbai in October, said PM Modi's Pakistan visit is a "big thing" in improving bilateral ties.
"The PM has taken a courageous step. I welcome it wholeheartedly. This is a big thing. The Modi-Sharif meeting is a big thing," Mr Kulkarni, a former speech-writer of Atal Bihari Vajpayee, said.
"They (Modi and Sharif) are taking a huge step in improving Indo-Pak ties. It is imperative that people of both the countries welcome this development," Mr Kulkarni, who visited Pakistan after Mr Kasuri's Mumbai visit, said.
Referring to Mr Vajpayee's poem "Hum Jung Na Hone Denge" (We won't let war happen), he said, "Atalji must be a very happy man with Modi visiting Pakistan on his birthday.
"Modi going to Lahore and meeting Sharif on Atalji's birthday is a pleasant surprise," Mr Kulkarni said.
"Today is also the birthday of Muhammad Ali Jinnah, founder of Pakistan. Jinnah wanted India and Pakistan to live together in peace," he said.
Hameed Haroon, the chief executive officer of Karachi-based Dawn Group of Publications who is currently visiting Mumbai, said "Modi has made an adroit move".
"This visit indicates that he wants good relations between the two neighbours," Mr Haroon said.
["source-ndtv"]