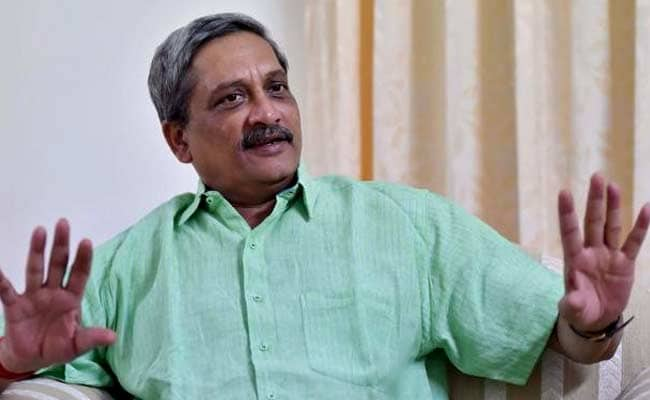 JAMMU: 
Defence Minister Manohar Parrikar will dedicate the first cable-stayed bridge of North India to the nation on December 24, providing close connectivity between three northern states of Jammu and Kashmir, Himachal Pradesh and Punjab.
"The cable-stayed bridge at Basholi situated on Dunera- Basohli-Bhadharwah road will be inaugurated by Defence Minister Manohar Parrikar on December 24 at 0930 hours," a Defence Spokesman said today.
The Basohli bridge will be fourth of its kind in India and first in North India and Jammu and Kashmir.
Currently India has three cable-stayed bridges – Hooghly bridge at Kolkata, Naini Bridge in Allahabad and Rajiv Gandhi Sea Link in Mumbai.
With the completion of cable-stayed bridge over river Ravi in Basholi, the connectivity and tourism is expected to get a boost.
The work on the maiden cable stay bridge of the state was started in September 2011 on the persistent demand of people of Basohli where over 22 villages got submerged in water and were evacuated to other places after the construction of Ranjit Sagar dam.
The 592-meter span bridge is being constructed by Border Roads Organization (BRO) at a cost of Rs. 145 crore.
It is a joint venture of IRCON a Railway Company and SP Singla Construction group.
Out of 592 m, 350 m span is cable-stayed while rest is plain bridge.
"A typical cable-stayed bridge is a deck with one or two pylons erected above the piers in the middle of the span," a senior officer said adding "the cables are attached diagonally to the girder to provide additional supports".
"The pylons form the primary load-bearing structure in these types of bridges. Large amounts of compression forces are transferred from the deck to the cables to the pylons and into the foundation," he said.
The officer said the Cable stayed-bridges have a low center of gravity, which makes them efficient in resisting earthquakes.
"Cable-stayed bridges provide outstanding architectural appearance due to their small diameter cables and unique overhead structure," he added.
"The peculiarity of this bridge is that the main span and back span are balanced by cable and this bridge has been designed by Canadian Company, Infinity Engineers. IIT New Delhi had approved the design of this bridge", he said.
The officer said nearly 300 ton specially designed cables are needed for this bridge which are being procured from Japan and Spain.
"The span layout is symmetric (121 meter – 350 meter – 121 meter), with pylons positioned at the top of the river banks. Two inclined cable planes splay outwards from each pylon in a semi-fan configuration, connecting to the superstructure at 14-meter spacing in the main span and 10.3 meters in the side spans," he said.
"Near the abutments, three sets of intermediate piers spaced at just over 20 meters form a secondary support system. When complete, the bridge will accommodate two lanes of traffic as well as two footpaths," he said.
["source-ndtv"]