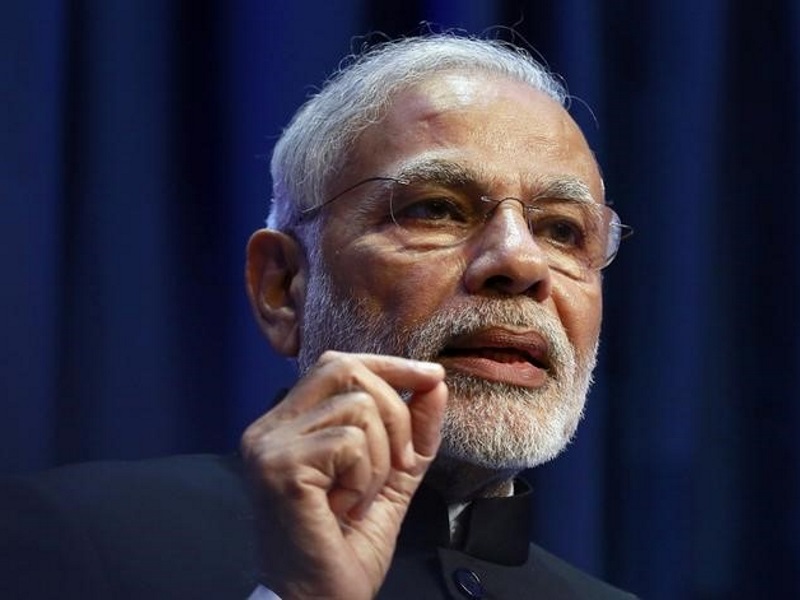 When Thursday dawns in New York, Prime Minister Narendra Modi is scheduled to launch a full day of economic diplomacy, cajoling titans of industry, finance and media to invest in his hallmark "Make in India" programme.
Modi, who arrived in New York Wednesday evening local time to a rousing welcome from members of the diaspora, has a double agenda for the five-day visit spanning the nation's two coasts: High-level diplomacy as he attends UN summit of heads of state and government, and promoting his "Make in India" and "Digital India" initiatives.
Outside of the UN, Vikas Swarup, the external affairs ministry spokesman, told reporters in New York Wednesday, "Startups, innovation and manufacturing are the thrust areas of this visit."
Ambassador to the US Arun Singh said that the focus on the economic dimension in the visit follows the strategic and commercial dialogue that ended this week in Washington. Having developed political and strategic ties, it was time for the commercial dimension, especially with the goal of expanding bilateral trade to 500 billion per year that was set by President Barack Obama during his Republic Day visit, he added.
After an evening of informal meetings on Wednesday with community members from several places, including New York and Chicago metro areas and Georgia, Modi switches gears Thursday focusing on his economic agenda.
Modi's manufacturing agenda will have a special place in his meetings on Thursday. Singh told reporters that his meetings will be with leaders in the finance, infrastructure and manufacturing sectors.
His first meeting of the day is a roundtable with many leaders of the finance sector at Hotel Waldorf Astoria where he is staying.
In the evening he is to meet Marillyn Hewson, the CEO of Lockheed Martin, the aerospace, defence and security company. India has bought giant C130 Super Hercules transport planes from Lockheed Martin.
That is to be followed by a meeting with Mike Burke, the CEO of AECOM, an infrastructure engineering and design company that works on an array of projects ranging from construction to transportation, and from environment to mining, oil and gas.
Modi caps off the day with a dinner with 40 CEOs of major Fortune 500 companies, mostly in manufacturing and infrastructure areas, Swarup said.
Earlier in the afternoon, he has a round table with media industry leaders that is hosted by Rupert Murdoch, the executive chairman of News Corp. and 21st Century Fox which owns Star TV. The theme of the meeting, which will include executives from other companies, is "Media, Technology and Communications – Growth Story for India".
He also meets in the evening with Michael Bloomberg, who owns the news and financial information and media company that bear his name. Bloomberg, who is United Nations Secretary General Ban Ki-moon's Special Envoy for Cities and Climate Change, visited India earlier this year to promote sustainable development and international investments in the renewable energy sector.
Ajay Banga, the CEO of MasterCard, who is also the chairman of the US-India Business Council, is also scheduled to meet Modi.
The only diplomatic meeting of the day scheduled as of Wednesday is with Guyanese Prime Minister David Granger, whose country's population of about 800,000 is 43 percent of Indian descent.
On Friday, Modi turns to high-level diplomacy. He is to address the first session of the UN Summit, which celebrates the 70th anniversary of the founding of the world body and undertakes a massive programme to eradicate poverty and hunger through sustainable development. It is called Agenda 2030 for the deadline to achieve the programme's 17 goals that include protecting the environment and empowering women.
India's Permanent Representative to the UN, Asoke Kumar Mukerji said that India is the broad canvas for the programme and it relies a lot on India for its success.
Modi has scheduled bilateral meetings with King Abdullah II of Jordan, Bhutan Prime Minister Tshering Tobgay, Swedish Prime Minister Stefan Lofven and Cyprus President Nicos Anastasiades.
He starts off Saturday on the East Coast with a summit of the G-4, a grouping of India, Brazil, Germany and Japan that works for UN Security Council expansion and mutually supports one another for permanent seats. Mukerji said this is the first time in more than a decade the G-4 was meeting at the level of prime ministers and presidents.
Mukerji said they will focus on building on the recent UN General Assembly endorsement of a negotiating text on Security Council reform and decide on the way to go forward. The negotiations are scheduled to start in the first half of November. The General Assembly overcame the first major hurdle earlier this month by endorsing the document on which to base the discussions.
Modi then flies off to the West Coast, where the focus will shift from high-level diplomacy to high-tech.
He has meetings scheduled with CEOs Tim Cook of Apple, Satya Nadela of Microsoft, Shantanu Narayen of Adobe, and Sundar Pichai of Google, executive chairmen Paul Jacobs of Qualcomm and John Chambers of Cisco, and Venkatesh Shukla, the president of The Indus Entrepreneurs (TiE), a non-profit organisation.
On Sunday, he is scheduled to visit Facebook, where social media's role in development will be the topic.
At Google, another stop in the Silicon Valley, Modi will look at their health care and grid programmes. A highpoint of the visit will be a 24-hour hackathon during which programmers at Google and in India will try to develop apps or programmes relating to the "Digital India" project.
Modi is to meet US Energy Secretary Ernest Moniz and participate in a round table at Stanford University on renewable energy.
Others on his agenda of meetings there are California Governor Edmund Brown and Salman Khan, the founder of the Khan Academy, the online education service.
With Nasscom, Modi will discuss creating an ecosystem for start-ups. Singh noted that Indian-origin entreprenurs are responsible for 15 percent of start-ups in the Silicon Valley and said that he would seek ways to create a culture of innovation and entrepreneurship in India.
In an attempt to recreate the glamour and popularity of his Madison Square Garden event last year, a massive Indian community meeting is planned at the SAP Center, a sport arena in San Jose where 20,000 people are expected.
Back in New York on Monday, he plunges into diplomacy meeting President Barack Obama, their third encounter in a year.
He also has bilateral meeting on his agenda with presidents Francois Hollande of France, Enrique Pena Nieto of Mexico and Mahmoud Abbas of Palestine Authority and the Emir of Qatar, Tamim bin Hamad Al Thani.
He will also attend a peacekeeping summit convened by Obama. Mukerji said that India is the largest contributor of troops to UN peacekeeping missions, with the cumulative total expected to reach 185,000 this year. "The time has come for peacekeeping to take into account India's concerns," he said. Modi has asked that the Security Council consult with troop-contributing countries in accordance with the UN charter, he added.
Protection of civilians has emerged as a major task of peacekeeping operations and India has the most experience on which it can be built, Mukerji said.
["source-gadgets.ndtv"]