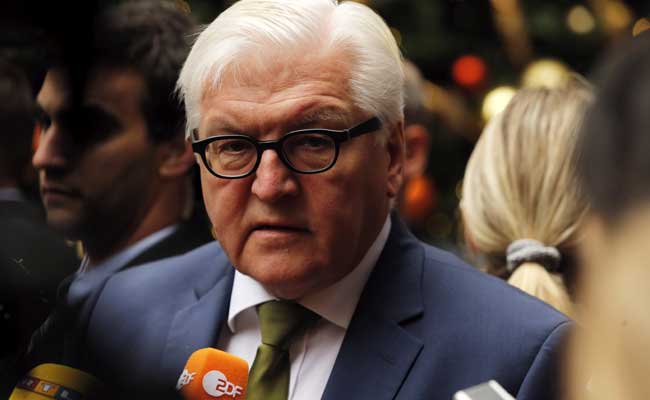 BERLIN: 
Saudi Arabia has a central role in fighting ISIS as it can help eliminate the ultra-hardline militant group's ideological breeding ground, Germany's foreign minister was quoted by newspapers in the Funke Medien Gruppe as saying.
Frank-Walter Steinmeier's comments were the latest in a series of mixed messages from the German government about Saudi Arabia and the role it plays in the Middle East and in relation to militants.
Earlier this month, German Vice Chancellor Sigmar Gabriel urged Saudi Arabia to stop supporting religious radicals, reflecting concern among some Berlin lawmakers about the funding of militant mosques by the world's biggest oil exporter.
Both Gabriel and Steinmeier are members of the Social Democrats (SPD), junior partner with Chancellor Angela Merkel's conservatives in Germany's governing coalition.
Asked whether Russia, Iran and Saudi Arabia were the right partners in the fight against ISIS, Steinmeier replied: "We all agree that IS (Islamic State) poses a great threat and must be fought.
"That there are differences of opinion between the states you name is no secret," he added in an interview published on Friday. "But our goal must be for everyone to pull on the same rope to successfully combat IS.
"We have always said we need the Islamic world to remove the ideological breeding ground from IS. In this matter, leading Muslim powers like Saudi Arabia have a key role."
Russia and Iran have been Syrian President Bashar al-Assad's main allies against rebels in Syria's civil war while US allies including Saudi Arabia, Qatar and Turkey have provided arms to various insurgents, including some Islamist groups.
Syrian Foreign Minister Walid al-Moualem said on Friday that international efforts to end the conflict should focus on preventing insurgents coming in from neighbouring Turkey and Jordan.
Germany's mixed messages on Saudi Arabia this month began with the foreign intelligence agency, in an unusual public statement, voicing concern that Saudi Arabia was becoming "impulsive" in its foreign policy.
Officials in Merkel's coalition promptly slapped down the BND agency, with a spokesman saying its assessment "does not reflect the stance of the government".
Germany's parliament this month approved a plan to join the US-led campaign against Islamic State insurgents in Syria by sending Tornado reconnaissance jets, a frigate to help protect the French aircraft carrier Charles de Gaulle, refuelling aircraft and up to 1,200 military personnel.
Germany will not join countries like Britain, France, the United States in conducting air strikes though.
Russia has also been bombing rebels since late September but Western officials and independent monitors say it has been targeting mainly rebels fighting in Assad's western heartland rather than ISIS, which predominates in east-central and eastern Syria.
Steinmeier ruled out sending German ground troops to fight ISIS in Syria. "I am completely agreed with Sigmar Gabriel that no German ground troops will fight IS on Syrian territory," he said.
["source-ndtv"]