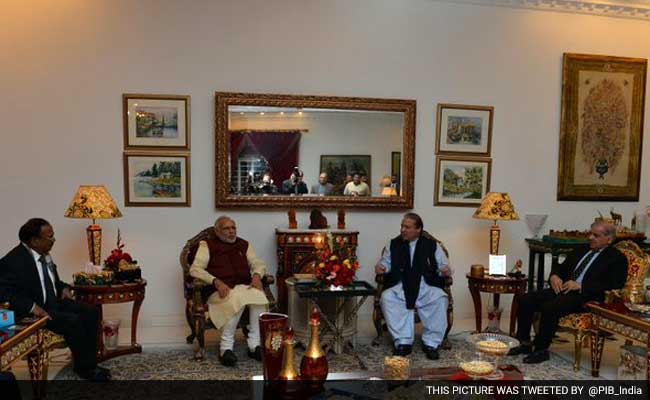 SRINAGAR: 
Separatists welcomed Prime Minister Narendra Modi's visit to Lahore today, with moderate Hurriyat Conference chairman Mirwaiz Umar Farooq terming it "a positive move" and hardline faction leader Syed Ali Shah Geelani saying they have no objection to improved relations between India and Pakistan.
"We do not have any issues with relations improving between India and Pakistan… No right thinking persons shall have any reservation on it. However, the two countries have to address the Kashmir issue as per wishes and aspirations of the people if these endeavours are to succeed," Mr Geelani told PTI.Reacting to Prime Minister Modi's surprise stopover in Lahore to meet his Pakistani counterpart Nawaz Sharif, who is celebrating his 66th birthday today, the hardline Hurriyat leader said, "We hope that Pakistan will also remain steadfast on its stand on Kashmir issue."
Moderate Hurriyat chairman Mirwaiz Umar Farooq said, "Modi's surprise visit to Pakistan is a positive move. People of Kashmir welcome any opportunity that bring India and Pakistan close."
The Mirwaiz further said, "Political will and vision is needed on all sides to address issues, specially Kashmir."
Meanwhile, Abdul Gani Bhat, head of Muslim Conference, a constituent of the moderate Hurriyat faction, said his party supports the resumption of dialogue process between India and Pakistan.
"Muslim Conference pledges support to the resumption of what is now termed as comprehensive dialogue to resolve all disputes, including of course the dispute on Kashmir, and consider this development as an effectively civilised means to move out from the frozen yesterdays to a peacefully productive tomorrow," Mr Bhat said.
Admitting that no dialogue process has so far produced any results, Mr Bhat said the situation now was different in the backdrop of the dynamics of global economic liberalisation as an order, which pre-supposes that peace and disputes can never co-exist.
"As such, the dispute on Kashmir will have to be resolved. Let no gloom of yesterday's blur any prospect of a better and brighter tomorrow," the Muslim Conference leader added.
["source-ndtv"]