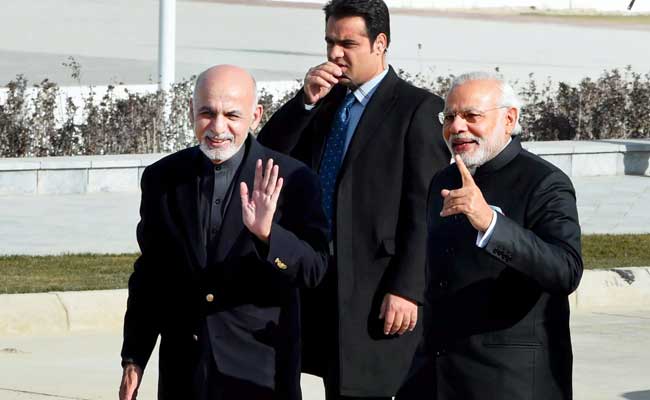 KABUL: 
Afghanistan needs to eliminate terrorism perpetrated from "sanctuaries and safe havens" for peace, India and Afghanistan said today identifying terrorism, narcotics and extremism as "serious challenges".
A joint statement, released after a meeting between Prime Minister Narendra Modi and Afghan President Mohammad Ashraf Ghani, also "strongly condemned" terror incidents in Afghanistan.
The statement said the two sides "exchanged views on the security situation in Afghanistan, which faces serious challenges of terrorism, extremism and narcotics".
"Strongly condemning the barbaric incidents of terrorism in Afghanistan in recent months, the two leaders reiterated that peace in Afghanistan required elimination of terrorism perpetrated and supported from sanctuaries and safe havens," the statement said.
Mr Modi, meanwhile "reiterated India's full support to Afghanistan for strengthening its defensive capabilities for preserving Afghanistan's unity and territorial integrity and ensuring security".
Mr Modi and Mr Ghani also agreed that those perpetrating violence cannot be allowed to wield influence over any part of the mountain nation.
"…Groups and individuals that perpetrate violence on the people of Afghanistan and challenge by use of violence and terror against the government of Afghanistan cannot be allowed to exercise control or wield influence over any part of Afghanistan's territory in any manner whatsoever, as that would pose serious risks to the gains of the last nearly one and half decades, and renew those very threats against which the people of Afghanistan and international community had resolutely fought and made great sacrifices," said the statement.
Mr Modi supported the Afghan government's reconciliation process, and said the groups and individuals to be reconciled must give up violence and abide by the constitution of Afghanistan.
The Mi-25 choppers India is giving to Afghanistan were also mentioned in the statement, and both sides agreed to expand training opportunities for Afghan security and defence forces.
"…The two leaders pointed out that the Mi-25 helicopters provided by the Indian government to Afghanistan and their maintenance facility would address an important requirement".
India has already delivered the first of four planned Mi-25 attack helicopters for use by the Afghan Air Force.
"They agreed to increase and expand training opportunities for Afghan National Security and Defence Forces in relevant Indian institutions, based on the requirements of Afghanistan," the statement said.
Mr Modi also thanked Afghan authorities for ensuring the safety of the Indian embassy in Kabul, the four consulates in Jalalabad, Kandahar, Herat and Mazar-e-Sharif, and Indian nationals in Afghanistan, including those working on various development projects.
["source-ndtv"]