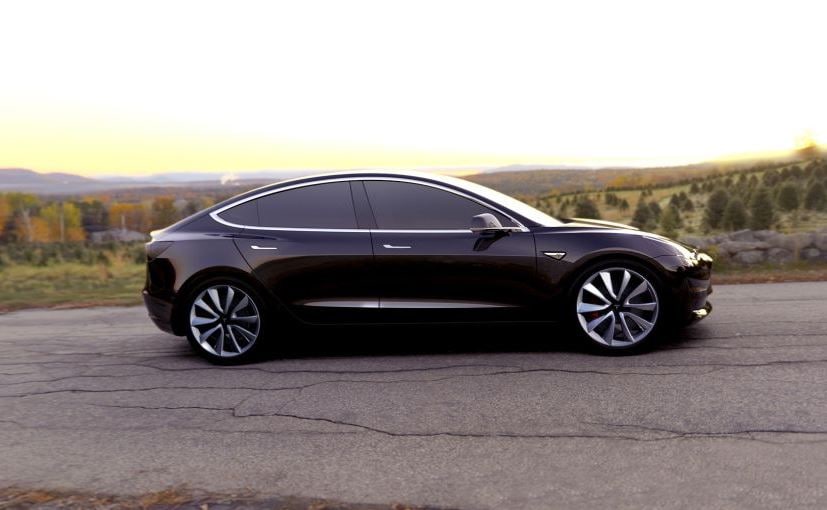 HIGHLIGHTS
The India launch of Tesla Model 3 could be delayed
Supply chain issues could be a big hurdle
30 percent of its parts need to be locally sourced for sale in India
If you were hoping that the electric car revolution would begin in India this year with Tesla's entry, you may have to wait a little while longer. Even though Tesla CEO Elon Musk had hoped to launch the Tesla Model 3 electric car in India in 2017, it appears that the plan may not work out.
On Monday, Musk was asked on Twitter whether the Model 3 would launch in India in 2017 or even 2018. The Tesla CEO tweeted, "Maybe I'm misinformed, but I was told that 30 percent of parts must be locally sourced and the supply doesn't yet exist in India to support that."
This doesn't necessarily mean that the launch is cancelled. Tesla could still launch its most affordable car yet in India at a later date. The company is evidently only looking to enter the country after it works out how to assemble a completely knocked down unit (CKD), which is what Musk's tweet is referring to. CKD automobiles need 30 percent locally sourced parts, apart from a factory to assemble the cars. Musk's tweet also serves to highlight the challenges the company faces in India.
While quite a few petrol and diesel powered cars are assembled in India with locally sourced parts, it's a lot harder to do the same for electric cars such as the Tesla Model 3. There remains a low possibility Tesla may choose to bring the Model 3 as a completely built unit (CBU) to India, but that will give a much higher price tag due to the 110 percent duty – a segment the company wouldn't want to place its cheapest car in.
Tesla CEO Musk's tweet also points to the supply chain issue in India as a hurdle. The company may be working on fixing that, but that's the kind of problem which can't be solved overnight.
Just over a year ago, Tesla had announced that the Model 3 will be heading to India and some Indians had even pre-ordered the car. Musk's latest tweet may make some of these people change their minds and cancel their pre-orders. The supply chain issue and the need for a country-wide charger network to power electric cars are two big challenges Tesla must overcome before it can start selling cars in India.
The Tesla Model 3 is the most affordable car in the company's lineup. It's priced at $35,000 (roughly Rs. 23 lakh). The Tesla Model S is a luxury sedan and that's priced at $66,000 (roughly Rs. 43 lakh).
Tesla's Gigafactory installations are also part of Musk's plans for India. The plans for that appear to be unaffected so far. This may tie in nicely with Prime Minister Narendra Modi's vision of producing 175 gigawatts of clean energy in India by 2022. PM Modi had shown interest in Tesla's Gigafactory back in 2015, during his tour of the US.
For the latest tech news and reviews, follow Gadgets 360 on Twitter, Facebook, and subscribe to our YouTube channel.
Tags:
["Source-ndtv"]