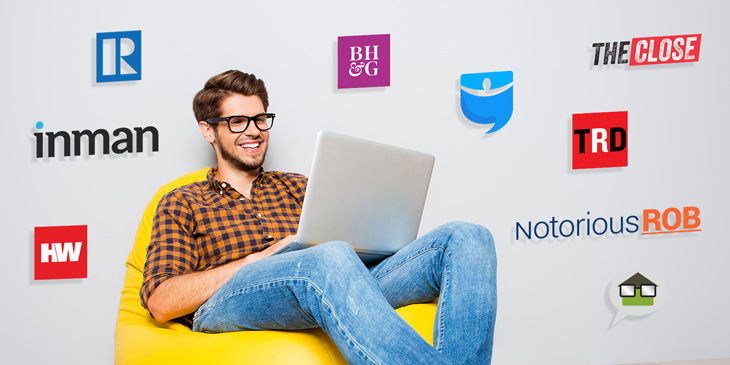 As a real estate professional, you know quite well that knowledge is power. The better informed you are, the better positioned you will be to take care of your clients, improve your productivity, and close more deals.
One of the best sources of free real estate knowledge is blogs by the pros. In this article, we put together 40 of our favorite blogs related to the real estate industry. These are not arranged from best to worse. They are all great and worth your time.
Whether you're trying to learn more about the market or how to market better and beat your competitors, these blogs will help give you a competitive edge.
1. AgentFire's The Spark
Yes, we are obviously biased here. This is our blog after all. However, we're not just doing empty boasting.
The Spark covers a huge variety of actionable strategies you can follow to create an effective real estate content marketing strategy. From learning to capture more leads from your website, running virtual open houses, to becoming a real estate broker, and so much more.
If you haven't subscribed to The Spark, what are you waiting for?
2. Bigger Pockets
Imagine a blog that teaches you all you need to know about how to break into the world of real estate investing, regardless of how much capital you have available.
Sounds too good to be true? It's not. That blog exists, and it's called Bigger Pockets.
Here you'll find guides and tutorials on how to keep better personal finances, how to build wealth through real estate investing, and which common pitfalls to avoid.
We recommend it not just to real estate professionals, but also to anyone looking to improve their personal finances.
3. Inman
When it comes to industry news, the latest insights on real estate, and interviews from the biggest names in the business, Inman is the gold standard.
And if you're obsessed with real estate tech, even better. You'll find the latest real estate tech that top producers are taking advantage of.
In short, if you want to stay up to date with the latest real estate trends, you'll love visiting this news organization.
Most of their articles are hidden behind a paywall, but the value they offer makes it a worthy investment.
4. Notorious R.O.B.
Notorious R.O.B. is a blog created and maintained by Rob Hahn, the Managing Partner of 7DS Associates.
This blog shows you Rob's unique perspective on all real estate matters, as someone that's right in the middle of it all. His cutting honesty makes you question some of real estate's most entrenched truisms while providing plenty of evidence of why he believes so to be the case.
5. Housing Wire
Housing wire is another wonderful source of big-picture real estate news that affects the entire country. More than just a blog, Housing Wire is a financial news organization that covers everything from agents/brokers to the latest real estate tech advancements.
If you want to see the big picture of the state of the real estate industry, Housing Wire is the perfect great place to start.
6. The Real Deal
Just like Housing Wire, the Real Deal is more of a news organization than a simple blog.
The Real Deal is a real estate magazine that covers real estate news from some of America's largest real estate markets including New York, Los Angeles, South Florida, Chicago. But it also covers real estate news that affect the entire nation.
7. Better Homes And Gardens
Better Homes and Gardens is an American institution with a long history. It currently ranks as the 4th best-selling magazine in the US.
Although better known as a magazine, its website publishes a large number of articles.
It's a superb source of information and inspiration for any real estate agent looking to improve their staging skills, prepare a home for a showing, and maintain curb appeal until the home is sold.
8. The Close
The Close describes its focus as all about bringing "actionable real estate strategies from industry professionals."
From real estate agent basics, marketing, lead generation, and real estate technology topics, the Close is a fine source of insight for any real estate agent looking to improve his/her digital marketing game.
9. Geek Estate
As the name indicates, Geek Estate is a blog written by self-described real estate geeks "with experience [in] providing technology services to the real estate industry and practitioners."
In this blog, you can expect to see the latest tools and techniques on the cutting edge of real estate, as well as interviews from real estate professionals that have taken their real estate game to the next level by means of technology.
10. Apartment List's Rentonomics blog
Rentonomics is "Apartment List's" blog. It's all about providing valuable information for both renters and landlords.
If you're a real estate agent/broker looking to dip your toes into the rental market, check out this blog.
And if you constantly deal with clients looking to move from renting into homeownership, this blog can also help you to get a snapshot of the kinds of questions and concerns that renters have.
11. Keeping Current Matters
The Keeping Current Matters blog is all about covering the latest national economic news and how they affect real estate. The content is relevant to both real estate agents as well as home buyers and sellers.
But one of its most notable features is that it's possible to personalize their blog articles and use them yourself (for a price). So if you're looking for a high-quality article for your own blog, Keeping Current Matters is an excellent choice.
12. Market Watch: Real Estate Section
Market Watch is not a news site dedicated to real estate. It focuses on macroeconomic financial news. However, it does have a great real estate section that you definitely should keep on your radar.
13. Lighter Side Of Real Estate
If you've ever shared any real estate memes, there's a good chance some of them came from The Lighter Side of Real Estate. While this blog is a great way of sharing and discovering real estate memes, it's not just a site to procrastinate and get a few laughs.
It also has excellent articles about how you can use humor to your advantage in real estate marketing.
14. RE Tipster
Although RETipster is an outstanding blog that any real estate professional can benefit from, I would seriously recommend it to new agents.
Its friendly, straight forward approach to real estate topics is immediately appealing and easy to implement.
15. Shannon Jones
Shannon Jones, one of AgentFire clients, is an amazing example of what you can (and should do) when it comes to content marketing. Her team publishes great, easy to understand and assimilate content regularly.
If you need an example of how you should model your content marketing strategy, Shannon Jones is a great choice.
16. Realest Blog
Realest Blog provides advice for real estate agents and brokers, as well as buyers, sellers, renters, and homeowners. And it does so in easy to understand language that anyone can follow, even if they're not directly involved with real estate.
17. A Student Of The Real Estate Game
A Student Of The Real Estate Game is a blog created by Joe Stampone, the current Vice President of Investments at Atlas Real Estate Partners.
He's been blogging consistently since 2009, with his primary goal being teaching his readers how he personally became a real estate investor and entrepreneur. He teaches the strategies and tools that allowed him to be where he is right now, and (in his words) "anything else that piques [his] interest."
18. Calculated Risk Blog
If you're not afraid to dig into the numbers and see the raw data, this blog is for you
Calculated Risk is a blog run by Bill McBride, a full-time finances and economics blogger. This blog is often praised by likes of Time, The Wall Street Journal, The New York Times, and other media organizations for Mr. McBride's almost unnatural ability to predict upcoming economic developments in the real estate industry.
19. HomeLight Blog
This terrific blog covers tons of basic strategies for both buyers/sellers and real estate agents. That alone would be enough of a reason to recommend this blog.
But the way its authors explain all of their recommended strategies in such an attractive and easy to digest way is enough to highly recommend this blog.
20. The Tenant Advisor
While the name may suggest that this is a blog might only be interesting to tenants, it's far more than that.
This blog is all about commercial real estate, particularly healthcare commercial real estate in the Houston Texas area. As such, it also provides tons of tips on dealing with the current pandemic (and if you're reading this in the future, remember Covid-19?).
So if you live in this area and you work in commercial real estate, you should definitely check it out.
21. World Property Journal
World Property Journal is a news site that covers international real estate news, by aggregating and syndicating residential, commercial, and vacation real estate articles from around the world.
If you want to stay up to date with the latest real estate news around the world, this is one of the best places to start.
22. Brownstoner
This blog covers Brooklyn through the lens of real estate, development, and renovation. If you are a Brooklyn real estate agent, definitely check it out.
23. Zolo
Zolo is a real estate listings aggregate site, not unlike Zillow. But it also features the latest Canadian real estate news, as well as a plethora of real estate education articles.
This site is a first-rate source of the latest real estate news for real estate professionals as well as investors.
24. RIS Media
RIS Media is a real estate news site that covers the latest real estate news, provides a variety of tutorials, and techniques for real estate marketing.
25. Flipping Junkie
Flipping Junkie is a top-notch source of information for all things property flipping. From homes, land, and rental properties, this blog covers them all.
It also shows tons of case studies of home flips, the challenges its buyers faced, and how they overcame them.
26. NAR Blogs
In the US, there are about 2 million active real estate agents. And out of those 2 million, around 1.3 million of them are REALTORS®.
That means that if you're a real estate agent, there's a very good chance that you're a member of the National Association of REALTORS®  (NAR).
As the official NAR website, you can expect to find the latest macroeconomic news about real estate there. And thankfully, NAR delivers.
["source=agentfire"]