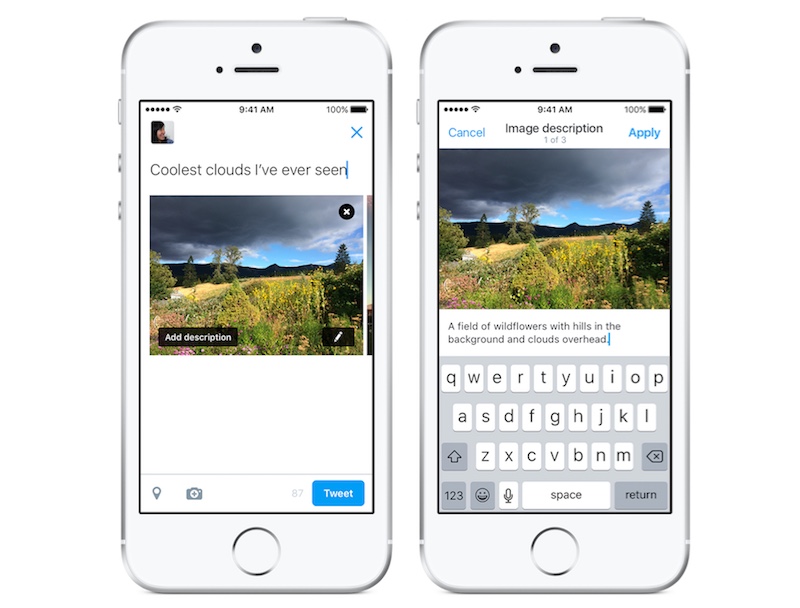 The hard truth is that not every company is working as hard as it should be to make its services accessible to people who are physically challenged. Which is what makes Twitter's recent announcement laudable. The micro-blogging platform on Tuesday announced that it is adding a layer of compatibility to photos which improves accessibility for the visually challenged.
Twitter is allowing users to add texts (think of description) dubbed "alt text" to images uploaded viaAndroid and iOS apps to convey their message to a wider audience. Those who are using assistive technologies such as screen readers and special keyboards will be able to better understand what is shown in the photo.
"The next time you add an image to a Tweet, each thumbnail in the composer will have an add description button," the company wrote on a blog post. "Tap it to add a description to the image. People who are visually impaired will have access to the description via their assistive technology (e.g., screen readers and Braille displays)."
Users are permitted to have descriptions as long as 420 characters, the company said. The feature can be enabled using the compose image descriptions options in the Twitter app's accessibility settings. The feature is available on Twitter's Android as well as iOS app, with no word on its availability on Windows Phone just yet. Twitter notes that publishers and third-party clients can also utilise this feature with REST API and Twitter Cards.
The inclusion of this feature is the latest in many similar additions and changes Twitter has made under the realm of Jack Dorsey.
Download the Gadgets 360 app for Android and iOS to stay up to date with the latest tech news, product reviews, and exclusive deals on the popular mobiles.