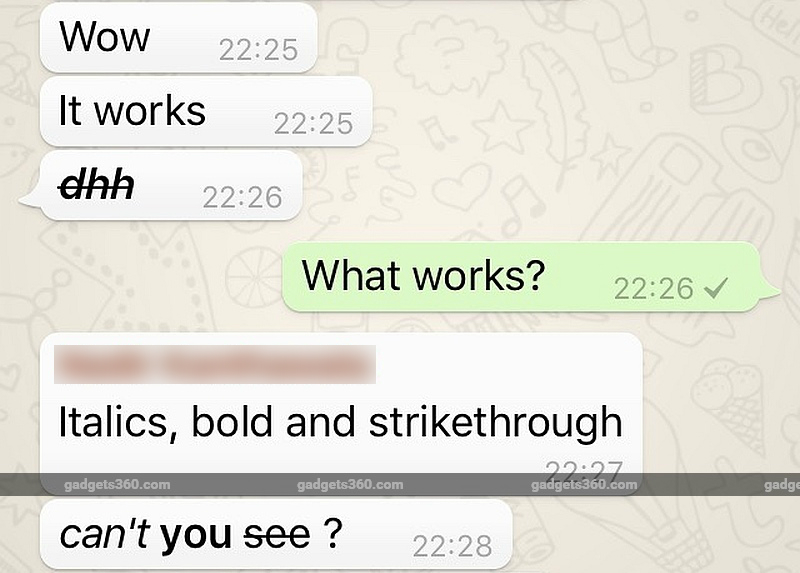 Earlier this month, WhatsApp rolled out an update that introduced text formatting options such as bold and italics for Android. The options at that time only showed up for Google Play beta testers. However, the same feature has now started rolling out to regular users as well, starting with iOS, and also bring the strikethrough formatting feature.
WhatsApp for iOS v2.12.17 brings text formatting to the platform, and what's more, you can combine all three text formatting options together in a single message. All you have to do is to put the text that you have to see as bold *inside asterisks* while typing, the phrase you need to italicise _between underscores_, and words you want to strike through ~between tildes~.
If you want to make a text appear in bold + italics, you can type the text _*between their respective symbols*_. Similarly, to combine all three you can type the text ~_*inside all three respective symbols*_~.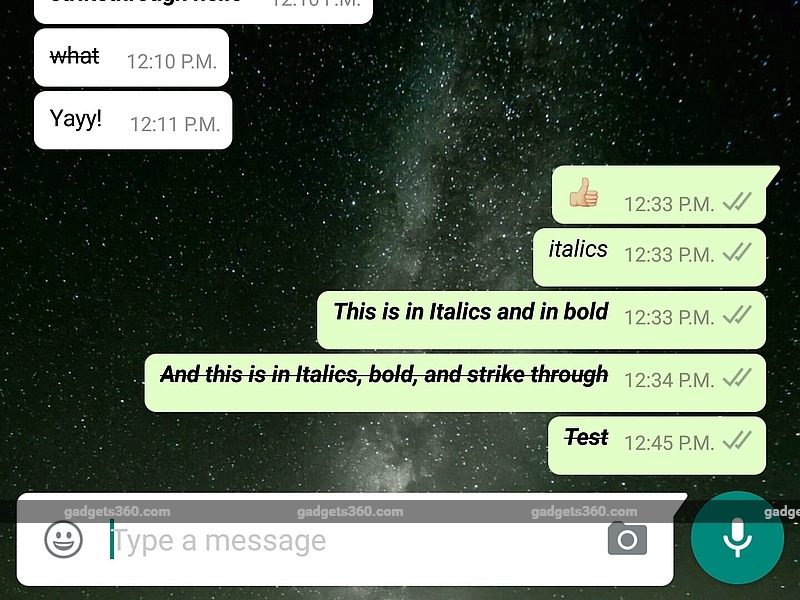 Strikethrough, as well as the ability to combine all three formatting options, has now also come to the Google Play beta app – or version v2.12.561.
As we mentioned, on Android, not all users are able to see the options just yet, on either v2.12.556 available from Google Play, or v2.12.559 available from the company website.
WhatsApp earlier this week rolled out an update for Android users that brings support for quick replies via notifications. The new feature is available in the latest version 2.12.560 which is currently available to beta testers who've signed up on Google Play. The new version lets users quick reply to messages right from the notification panel. Also new, is improved contextual options for contacts, and a new wallpaper selector.
Download the Gadgets 360 app for Android and iOS to stay up to date with the latest tech news, product reviews, and exclusive deals on the popular mobiles.