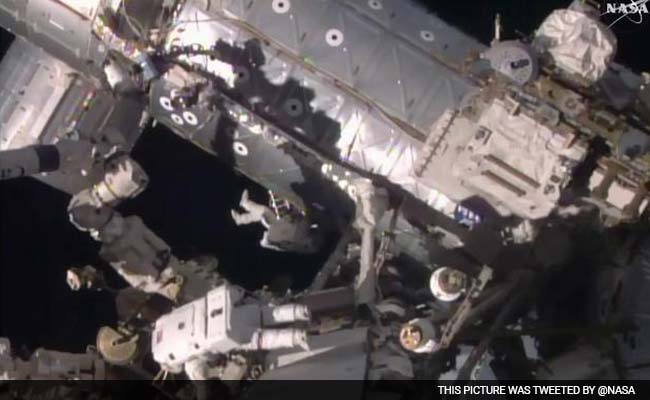 MIAMI: 
A pair of American astronauts stepped out on a three-hour spacewalk today to move a stalled railcar outside the International Space Station, NASA said.
Scott Kelly and Tim Kopra got straight to work and swiftly accomplished their main mission less than an hour into the outing, when Kelly gave two whacks to a stuck brake handle and got the car moving again.
"That was pretty easy," Kelly said, according to a live broadcast of the spacewalk on NASA television.
The mobile transporter railcar carries the robotic arm from one location to another on the outside of the orbiting lab.
It was fully latched back into place at 8:35 am (1335 GMT), just 50 minutes after the spacewalk began.
The railcar's brake was believed to have become stuck unexpectedly last week after it moved about four inches (10 centimeters) from its starting point.
The railcar needed to be latched in place so as not to interfere with the arrival of the Russian Progress supply ship on Wednesday.
After Kelly and Kopra moved the rail car, they began routing cables to prepare for a new docking adapter for commercial cargo ships.
["source-ndtv"]