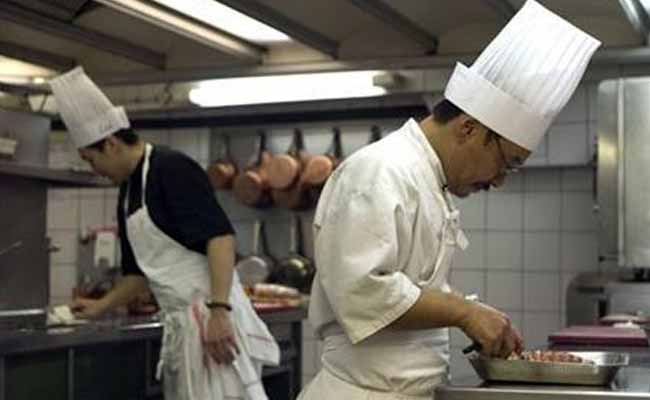 What do chefs eat when they're off-duty? The Washington Post asked some world-famous restaurateurs about the comfort foods they love returning to.
Jose Andres,  Minibar and Jaleo, Washington
For me, it's huevos a la cubana (fried eggs over rice, with tomato sauce) and croquetas. Croquetas are end-of-the-month food for me. At the beginning of the week or the month, my mom would go to the market and buy meat and chicken. But at the end, when there wasn't money for more, you would just take what was left in the refrigerator – the scraps of leftover meat, a little milk and butter for a bechamel, some crumbs from stale bread – and make something delicious.
Dominque Crenn, Atelier Crenn, San Francisco
I love making a grilled cheese sandwich "my style" – I use brioche, Brittany butter, heirloom tomato compote, Comte cheese and smoked avocado. And I serve it with a beautiful tomato soup.
Rene Redzepi, Noma, Copenhagen
For me, roast chicken is one of the greatest comfort foods. I remember the anticipation I had as a kid in Macedonia, watching the chicken cook… as the skin turned crispy and golden brown. Today my mouth still waters at the thought. We don't have a wood-fired oven like my family did in Macedonia, but my wife and I still prepare it for our family, rubbed in oil and salt, and stuffed with citrus.
Enrique Olvera, Pujol, Mexico City, and Cosme, New York
I really like chicken soup, made with mint, cilantro, carrots, zucchini, potatoes, rice, avocado and a lot of lime. I like it with tortillas on the side.
Sean Brock, McCrady's, Charleston
I grew up eating chicken and dumplings from my grandmother's kitchen and now from my mother's. The dish couldn't be simpler. It has a total of five ingredients: water, a chicken, butter, flour and buttermilk. That's the great thing about comfort food – you take nothing and make something extraordinary.
Christina Tosi, Momofuku Milk Bar, New York, Washington and Toronto
I'm obviously big on comfort food, whether as a jumping-off point for inspiration for something new in the Milk Bar kitchen, or soothing the soul with family or friends. My favorites come from the recipes I was raised on: cornbake, my aunt's country bread, my grandma's oatmeal cookies, cocktail meatballs…. It's the only food I knew to cook, bake and eat (aside from cereal, pizza, Chinese food and McDonald's) until I set out on my own at 18.
Daniel Patterson, Coi, San Francisco, and LocoL, Los Angeles
My favorite comfort food is rice – it's the flavor and texture, and the fact that it's the base for a delicious sauce or broth. But I think it's also because I associate it with family meals at the restaurant, which are happy memories.
Ben Shewry, Attica, Melbourne, Australia
I'm the self-proclaimed fried-rice connoisseur. Fried rice was a favorite that I shared often as a child with my late Grandmother Elaine, and I've traveled to the ends of the Earth for the perfect bowl of it. (I'm still searching.) I've also spent more than a decade over a wok attempting to perfect it myself, only to come up very short. But pretty much every bowl I've eaten is comforting. The rice must be cooked fresh on the day (not leftover) so it still retains its full fragrance, and it should be very simple. Just a little egg and a little spring onion.
Dan Barber, Blue Hill at Stone Barns, New York
I've never understood the idea of comfort food. What does it mean? Why are magazines always bragging about a "return to comfort food"? And why is the picture of comfort food invariably soft food – stews, purees or creamy things that make you think baby food? I don't find it comforting, because it doesn't make me hungry.
Grant Achatz, Alinea, Chicago
When I get home late after a long day and want something easy and tasty, I usually boil some pasta and do a quick mushroom butter and Parmesan. I also love pizza, soft scrambled eggs with whole-wheat toast, and lastly and maybe most out there: instant ramen.
Nora Pouillon, Restaurant Nora, Washington
For me, comfort food is different depending on the season. When it starts to get cold, I like soups. It can be a light soup, like miso soup with lots of vegetables or the Tokyo hotpot with soba noodles, tofu and vegetables, like I do it at the restaurant. Or a heavier soup like a lentil soup or pureed mushroom soup. In the summer, it would be yogurt dishes, gazpacho and salads. And when I feel like I need something really quickly, I love to open a can of Portuguese sardines and eat them with rye bread spread with butter.
Erik Bruner-Yang, Toki Undergroundand Maketto, Washington
Taro bubble tea and pizza. For the holidays, though, it's my wife's famous roast turkey and an apple whiskey pecan streusel pie from Frenchie's.
David Chang, Momofuku, New York, Washington and Toronto
We're opening another restaurant… and I'm really busy, so right now, comfort food is pretty much whatever I find when I get home and open the refrigerator.
["source-ndtv"]