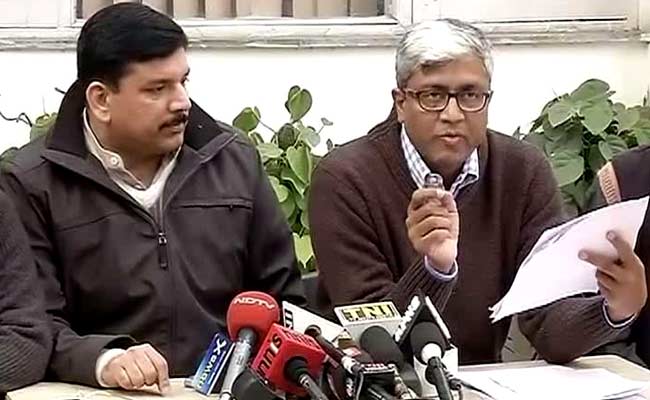 NEW DELHI:  Arvind Kejriwal's Aam Aadmi Party (AAP) today aimed five questions at Finance Minister Arun Jaitley in connection with what it alleges is a massive scam in Delhi's cricket body when he was chairman.
"Mr Jaitley is the master of half-truths and beautiful lies," said AAP leader Ashutosh, alleging that Mr Jaitley had not responded to any of the party's specific allegations.
The party questioned Mr Jaitley on allegations like illegal corporate boxes were made atDelhi's cricket ground Ferozshah Kotla and sub-leased. "A company close to you and your family – 21st century – was tasked to sell and sublease these boxes for Rs. 36 crore for which a commission was paid," said Ashutosh.
"Whose company is 21st century? What is Lokesh Sharma's relation with Jaitley?" he asked.
The second allegation is linked to money allegedly paid to Hockey India. "Did you not pressure ONGC to grant Rs. 5 crore to Hockey India?" Ashutosh questioned the finance minister.
AAP has also alleged irregularities in the construction of a stadium by public sector company EPIL, for which 24 crores were sanctioned but Rs. 114 crore was spent.
"EPIL was paid Rs. 57 crore, where did the remaining money go? Wasn't EPIL given the remaining 57 crore as well?" AAP asked.
AAP has alleged that money was siphoned off with the help of fake companies.
It also questioned why Mr Jaitley "overlooked an inquiry report by saying the irregularities have been compounded form of lies".
"AAP raised, with facts, specific allegations. BJP raising jumla after jumla. Smriti Irani saying 'don't question God', Venkaiah saying 'don't question the Sun'," said Sanjay Singh.
The  AAP and the Congress have demanded the resignation of Mr Jaitley over the alleged financial irregularities in Delhi's cricket body the DDCA, which he headed in the past.
Mr Jaitley has rubbished the allegations calling them 'propaganda' aimed at diverting attention from corruption in the AAP government.
["source-ndtv"]