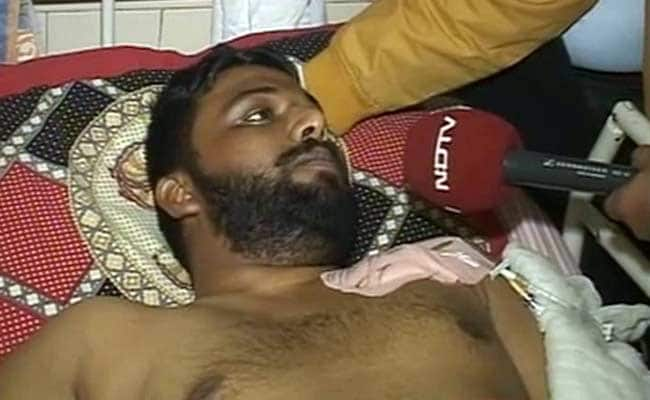 CHANDIGARH: 
Gurjant Singh, the man whose one hand and a leg were chopped off at a farmhouse in Punjab's Abohar, has alleged that his attackers were ordered to kill him and his friend by Akali Dal leader Shiv Lal Doda's nephew to "teach us a lesson."
The farmhouse where Gurjant and his friend Bheem Tank were attacked on December 11 is owned by Mr Doda, a liquor contractor. While he is yet to be arrested, his nephew Amit Doda, also an accused in the case, surrendered before the police today. So far 13 people have been arrested in connection with the case.
Gurjant's friend Bheem Tank, a Dalit, died on way to hospital after his limbs were chopped off by the attackers. His autopsy report said 20 "deep injury" marks were found on his body.
Recounting the horror, Gurjant told NDTV that those who attacked them had orders from Mr Doda's nephew. "There were at least 11 assailants armed with sharp weapons. They locked us inside the farmhouse. Their leader said they wanted to teach us a lesson because we have dared to part ways with their boss Amit," he said.
"Two men held our limbs and others chopped them. Their intention was to kill us," he added.
The Opposition Congress had accused the Punjab Police of "going soft" on the Akali leader and his nephew due to pressure from the ruling government.
The issue resonated in the Rajya Sabha this week where Leader of the Opposition Ghulam Nabi Azad demanded that the Punjab government, run by a coalition between the BJP and the SAD, be dismissed. Protests by opposition members forced repeated adjournments.
["source-ndtv"]