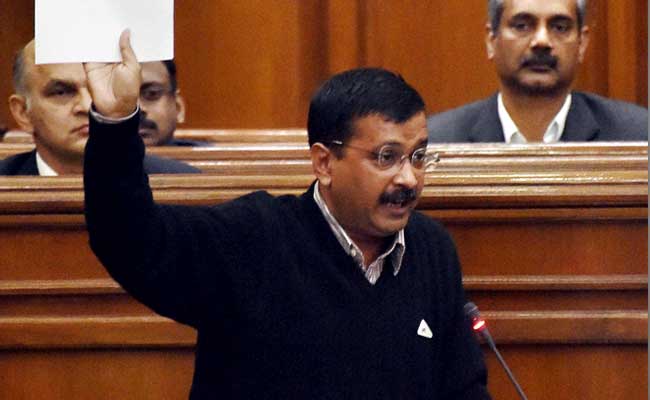 NEW DELHI: 
Delhi Chief Minister Arvind Kejriwal lashed out at Lieutenant Governer Najeeb Jung on Friday, reacting sharply to reports that Mr Jung has questioned the validity of the Inquiry Commission notified by the AAP government to probe financial irregularities in the Delhi cricket body, DDCA.
Mr Kejriwal said the LG is trying to protect his political bosses. He was speaking at a Delhi government function. "The LG's boss is Jaitley sahb and he is trying to save him," the chief minister said. This is not the first time Mr Kejriwal has accused the LG of acting at the Centre's behest.
Finance Minister Arun Jaitley, in a Facebook post on Thursday had criticised AAP for lowering the political discourse. "People in positions are expected to act with restraint.  They cannot be outlandish. Vulgarity is not a right available to them…Lumpenisation of public discourse can never be high point of politics," wrote Mr Jaitley.
The government's probe is centred around AAP's allegations that Mr Jaitley, who was the DDCA chief for 13 years, is involved in the alleged corruption.
Mr Jung has reportedly questioned the validity of the Inquiry commission. "In a communication to the Ministry of Home Affairs, the LG has stated that the Commission of Inquiry Act, 1952 empowers only the Centre and state governments to appoint a commission of inquiry. Since, Delhi is a Union Territory, a commission of inquiry may be ordered only with the concurrence of the Centre, through the LG," sources said, news agency Press Trust of India reported.
"Also, the funding for the DDCA comes not only from Delhi but also other states and hence it is not just Delhi Government's jurisdiction to conduct a probe," they added.
Countering Mr Kejriwal's fresh verbal attack, BJP Spokesperson Nalin Kohli, said, "It is strange that AAP takes decision on those issues only which have clashes." He said the AAP government wants to create an impression that the Centre is not letting it function. "Kejriwal has a habit of making allegations about everyone."
["source-ndtv"]