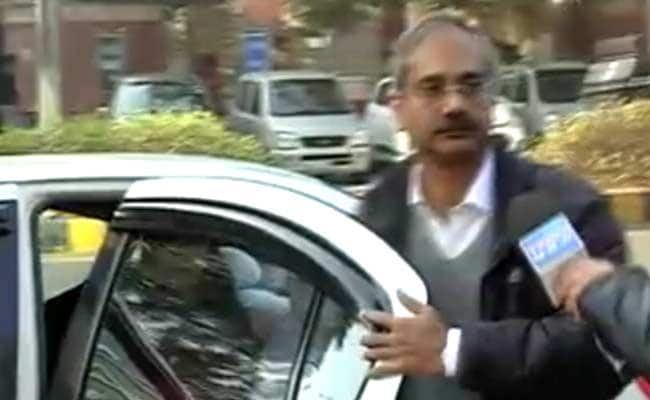 NEW DELHI: 
An outraged Arvind Kejriwal said after CBI raids on his Principal Secretary Rajender Kumar that had he been informed, he would have acted himself, that he would "not spare even my own son" if accused of corruption.
But officials of corruption watchdog Transparency International say it was back in May that they wrote to the Chief Minister asking him to investigate Rajender Kumar, but he did nothing about it.
The CBI's raids on Rajender Kumar's office right next to that of the Chief Minister at the Delhi Secretariat have triggered a massive political row between the Aam Aadmi Party (AAP) and the Centre.
Mr Kejriwal has backed the officer he had handpicked for his team and said he was "surprised" by the allegations against him.
Not true, say Transparency International officials, who find it "strange" that the Chief Minister says he was not aware of the allegations.
"We forwarded a letter around May 27. The news was covered in newspaper. The details that the CBI is probing were in that news item. In the letter we requested just to investigate the complaint. Whether it is a truth or lie, it is the job of the investigating agency to decide," said Ramnath Jha a director of the watchdog.
The officials say the whistleblower came with specific information. "We sat with him for an entire day and verified his claims over 20 days," says Ashutosh Mishra, another director.
"The allegation is that the person used to favour certain companies which were floated by and run by his colleagues. These are publicly available documents. There was a clear case of conflict of interest. The requirement was to just forward the letter to the vigilance department," Mr Jha said.
Since the controversial raids yesterday, more than one person has contradicted Mr Kejriwal, who rose to the spotlight in politics as an anti-corruption crusader. His former mentor Anna Hazare has said that he should have checked Mr Kumar's record before appointing him.
A former AAP volunteer, Om Prakash, has also claimed that he emailed Mr Kejriwal on December 27, 2013, about Rajender Kumar, even before his appointment. Mr Prakash alleges that Mr Kejriwal called him and told him off for writing to him.
["source-ndtv"]