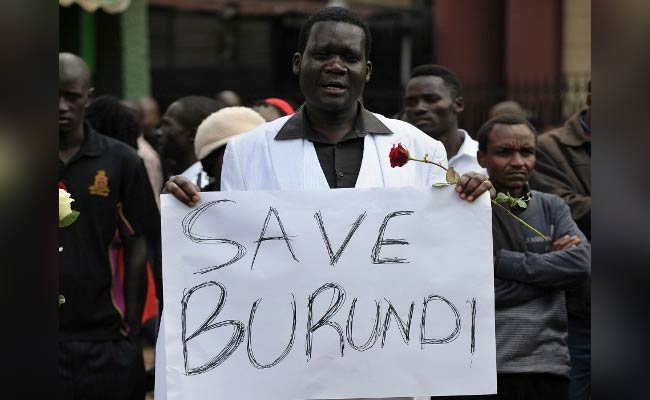 KIGALA, RWANDA: 
Burundi's government on Saturday rejected the African Union's plans to deploy a 5,000-strong peacekeeping force to stop escalating violence triggered by President Pierre Nkurunziza's extended tenure in office, a government spokesman said.
If the African Union sends troops without Burundi's consent it will be viewed as an attack, said government spokesman Philippe Nzobonariba. Burundi has enough forces to maintain peace, he said.
Burundi has been in turmoil since April when Nkurunziza's candidacy for a third term was announced. Violence escalated following Nkurunziza's re-election in July.
Last week 87 people died when an unidentified group attacked three military installations. Burundi's security forces responded by going on a rampage in parts of the capital, Bujumbura, regarded as centers of opposition. Police and military are accused of dragging more than 150 civilians from their homes and shooting them at point blank range, according to human rights groups. Burundi's government insists its troops acted professionally.
In response to the violence, the African Union on Friday authorized sending a peacekeeping force to Burundi to stop the political violence. The African Prevention and Protection Mission will be deployed to Burundi for at least six months and its mission can be extended, the African Union's Peace and Security Council said. The force's mandate will include protecting civilians under imminent threat and helping to create conditions for holding inter-Burundian dialogue. The African Union's decision was unusual as it did not seek an invitation from Burundi's government for the peacekeepers.
In another effort at mediation, Burundi's fighting sides are to meet on December 28 in Uganda to try to resolve the crisis, Uganda's defense minister said Saturday.
Fourteen groups including Burundi's ruling party, opposition parties and civil society organizations are to attend the talks aimed at ending the violent political unrest in which hundreds have been killed, said Crispus Kiyonga, who is also the facilitator of the peace talks mediated by the East African Community. Ugandan President Yoweri Museveni will moderate the talks, he said.
However the chances for these negotiations are not certain as the Nkurunziza government refused to participate in previous talks.
The United Nations Security Council, in a statement Saturday, expressed "deep concern about the escalation of violence in Burundi," condemning both the attack on the military installations and the retaliatory rampage in Bujumbura. The council urged all sides in Burundi to support Museveni's mediation effort and to cooperate with the African Union's plan to deploy a peacekeeping force.
At least 400 people have been killed since April 26, when it was announced Nkurunziza would run for a third term, according to human rights groups. Nearly 3,500 people have been arrested in the political crisis and 220,000 people have fled the country.
Nkurunziza's third term was opposed by many Burundians and the international community, who say it violates the country's constitution two-term limit. Nkurunziza argues that his first term in office does not count because he was elected by parliament and not by the people.
["source-ndtv"]