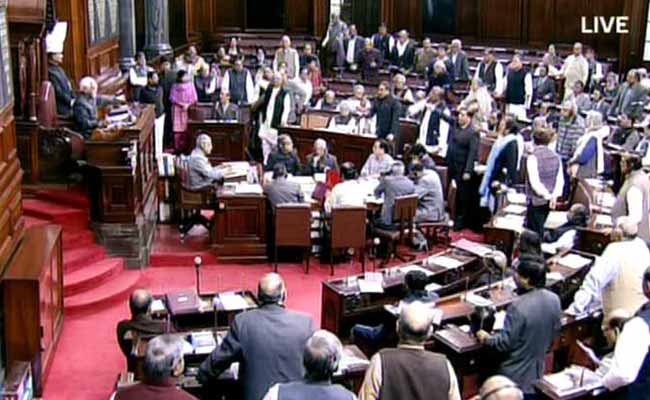 NEW DELHI: 
Congress today disrupted Parliament over Arunachal Pradesh Governor Jyoti Prashad Rajkhowa, alleging that efforts are being made to "destabilise" the party's state government, even as the Centre said an "Emergency-like situation" was being witnessed there.
The party forced repeated adjournments of Rajya Sabha over the issue while in Lok Sabha, its members, including party president Sonia Gandhi and party vice president Rahul Gandhi, staged a walkout.
Alleging "murder of Constitution and democracy", the Congress members in both Houses demanded the dismissal of the Governor.
Raising the issue in Lok Sabha, Leader of Congress Mallikarjun Kharge said that despite Congress having two-thirds majority, it is very "unfortuante that unconstitutional attempts are being made to throw out the government."
He said, "Efforts are being made to destablise and elected government to bring in a non-Congress government".
When Mr Kharge talked about the Governor's role, Lok Sabha Speaker Sumitra Mahajan asked him not do so, saying rules do not permit raising of a matter related to a state.
Parliamentary Affairs Minster M Venkiah Naidu also said the conduct of a Governor cannot be discussed in Parliament this way.
"The (Arunachal Pradesh) Speaker has disqualified 14 MLAs. It's an Emergency-like situation there," Mr Naidu said.
In Rajya Sabha, Congress members trooped into the Well and shouted slogans like "stop the murder of Constitution in Arunachal Pradesh and Dismiss Arunachal Governor."
Chairman Hamid Ansari made a vein attempt to take up the Question Hour. But as the din continued, he adjourned the House till 12.30 pm.
Similar scenes were witnessed when the House again met. Objecting to the slogan-shouting, Mr Ansari told Deputy Leader of Congress in Rajya Sabha, "this is Question Hour time Sharma Sahab. You have had your say in the morning. Got ample opportunity."
The Chairman persisted with the Question Hour. Two questions were taken up in the din. But soon the Congress members trooped into the Well. Answari requested the agitating Congress members not to come into the Well but his plea remained unheard.
As the din continued, the Chairman adjourned the House till 2 PM.
Similar scenes prevailed when the House re-assembled, forcing adjournment till 3 PM, but not before Environment Minister Prakash Javadekar made a statement on the recent Climate Change Summit in Paris.
["source-ndtv"]