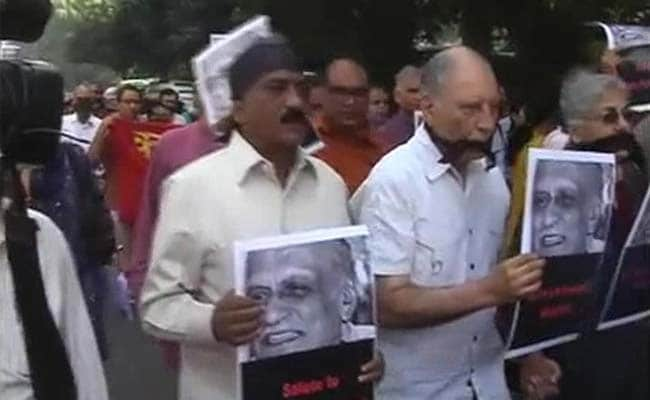 NEW DELHI: 
The Delhi High Court today sought a response from the Centre on a plea seeking a direction to frame guidelines that if Sahitya Akademi awardees return their awards, they should also return the prize money and royalties they may have earned through sale of their books.
A bench of Chief Justice G Rohini and Justice Jayant Nath also issued notices to the Ministry of Tourism and Culture and Sahitya Akademi and sought their replies before February 15 on plea which contended that the "action of returning awards has the effect of tarnishing India's image".
The court was hearing a Public Interest Litigation (PIL), filed by advocate Haji Mohammad Majid Qureshi and a religious organization, which said "the present system whereby writers are allowed to retain royalties earned by them through sale of copies of their books despite returning the award is arbitrary and illogical."
While mentioning the name of eight persons, including writer Nayantara Sahgal, who have returned their awards recently, the petition sought a direction to the ministry and Sahitya Akademi to frame guidelines with respect to the award instituted by the respondents with retrospective effect.
"The present petition has been filed seeking mandamus from court so that the Sahitya Akademi- India's premier academy of letters- is directed to frame guidelines so as to ensure that in case awardees were returning their awards for political reasons, they should also be rule-bound to return not only the prize money with interest but also the royalties that they may have earned through sale of their prize-winning books or other works under Article 14 of Constitution…," the plea said.
"..So that reasonable remedial action can be taken against such authors who impair the country's dignity," it said.
It further said that this plea was to ensure that strong punitive action is taken against those who return such awards as Sahitya Akademi Puraskar(award), a solemn token of appreciation conferred upon deserving writers on behalf of the Indian public.
Several writers, poets and artists had recently returned their awards protesting against the Akademi's "silence" on the murder of fellow writer and Sahitya Akademi board member MM Kalburgi as well as against the atmosphere of "intolerance and communalism" in the backdrop of the Dadri lynching incident in Uttar Pradesh.
["source-ndtv"]