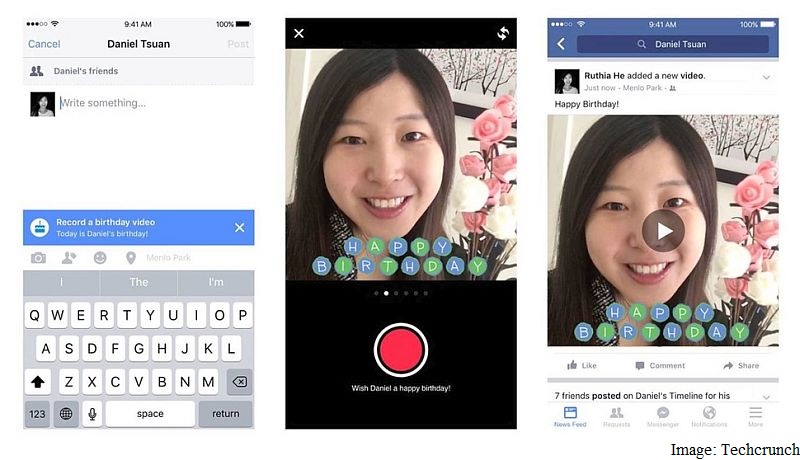 Facebook users must be familiar with birthday wall posts that sound almost robotic, such as "HBD" and "Happy Birthday." Facebook will soon offer users an alternative way to wish their friends and families on their birthday – video messages.
The social network has started rolling out a new feature dubbed 'Birthday Video Cam' that lets you say "Happy Birthday" to friends via video. The feature has been launched on the iOS app, and is expected to be available on more platforms soon. With the new 15-seconds 'Birthday Video Cam', Facebook wants to encourage people to interact via videos rather than just texts. Users will be prompted about the new 'Birthday Video Cam' feature on the wall of the user whose birthday it is and will show a pop-up message at the bottom that says, "Record a birthday video."
TechCrunch has shared a screenshot that shows the new feature on the Facebook for iOS app. Apart from recording the video, the feature also lets users add various effects including frames before sharing it on the friend's wall. Facebook, which recently confirmed that it has a user base of nearly 1.6 billion, has been lately pushing videos on the platform.
Last year, the company released an array of features aimed at increasing videos views on the social network. It launched the suggested videos feature which started showing up on website and apps displaying rows of related snippets after someone viewed a clip from News Feed. The company last year rolled out auto playing videos on its website as well as apps. The feature however targeted at users who watched a lot of videos and had a fast Internet connection with a generous data cap.
Download the Gadgets 360 app for Android and iOS to stay up to date with the latest tech news, product reviews, and exclusive deals on the popular mobiles.