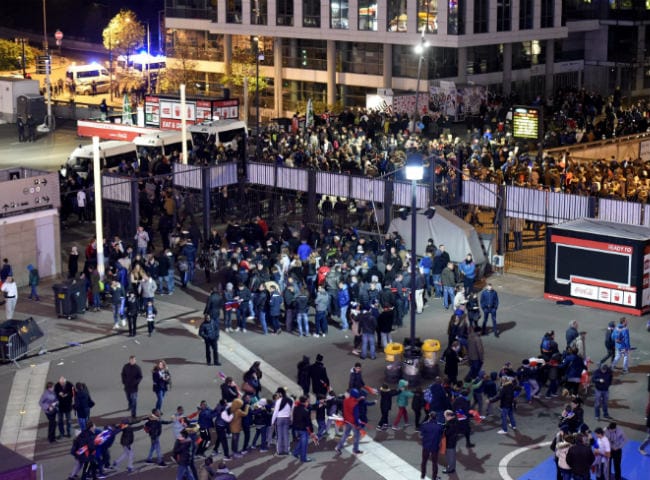 VIENNA: 
Austrian police have arrested two people with suspected links to the Paris attacks, prosecutors said today, with an Austrian newspaper reporting the two are French citizens posing as refugees.
"Two people coming from the Middle East were arrested at the weekend," Robert Holzleitner, a spokesman for prosecutors in the western city of Salzburg, told AFP.
"Indications of a possible link to the Paris attacks are currently being investigated."
He said the two were arrested in a centre for refugees in Salzburg "on suspicion of belonging to a terrorist organisation".
The Kronen-Zeitung daily reported online that the two men are French and entered Austria in October together with members of the cell who carried out the November 13 attacks in the French capital that killed 130 people.
The newspaper said they had been posing as refugees and had fake Syrian passports, having travelled up from Greece through the Balkans into Austria along with hundreds of thousands of migrants arriving in recent months.
Three of the nine Paris attackers have yet to be identified, including two of the three suicide bombers who blew themselves up outside the Stade de France stadium, who appear to have used fake passports to sneak into Europe.
Holzleitner declined to comment on the nationalities of the two arrested in Austria or give any more details. The Austrian interior ministry and police also declined to comment.
The Kronen-Zeitung, without citing sources, said that the information leading to the arrests came from an unspecified foreign intelligence agency, and that the two men had Algerian and Pakistani roots.
The tabloid also said that the two had been waiting in Salzburg, a city popular with foreign tourists, for orders to carry out more attacks.
French arrest
News of the Austrian arrests came a day after a 29-year-old man with suspected links to the Paris attacks claimed by the ISIS was arrested in a housing estate in the eastern Paris suburb of Villiers-sur-Marne.
Six counter-terrorism judges are overseeing the investigation — an unprecedented number for France — and the probe has seen 2,700 police raids and 360 people placed under house arrest.
French Interior Minister Bernard Cazeneuve said a total of 334 people had been arrested since the attacks, of whom 287 were held for questioning, and that over 400 weapons had been seized.
Eight men have been arrested in Belgium, where the attacks are thought to have been organised, and one man has been detained in Turkey on suspicion of scouting the Paris concert hall, bars and restaurants where the attacks took place.
Salah Abdeslam, a 26-year-old French citizen who is thought to have played a key logistical role, is still on the run and subject to an international arrest warrant.
Abdeslam was also registered as having been in Austria on September 9 after being stopped in a routine traffic check in a car with Belgian number plates with two other men, Austrian authorities said on November 17.
Abdeslam told police he was "on holiday" in Austria.
He also travelled to Hungary before the attacks where he "recruited a team" from unregistered migrants passing through, Hungarian officials said on December 3.
["source-ndtv"]