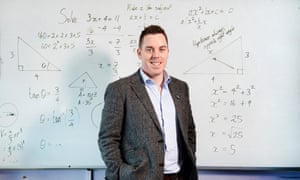 At the back of Colin Hegarty's classroom, on a display made from wavy pieces of blue sugar paper, is something he calls his "wall of inspiration". It features photographs of famous people – Michelangelo, Malcolm X, Malala Yousafzai – alongside a quote from each stressing the critical importance in their own life and career of sheer, bloody-minded hard work.
"My secret is practice," reads the contribution from David Beckham. "I have always believed that if you want to achieve anything special in life you have to work, work and then work some more."
Hegarty loves talking to his pupils about people like Beckham, he says, and it is not difficult to see why. At 34, and after just six years teaching maths, he was this week named one of the 10 best teachers in the world in a contest that awards $1m to the overall winner, who will be announced in March. He is in the process of developing a website that he hopes will be available to every child in the country, and through which he aspires to make a difference to maths education in Britain.
But the one thing that has got him here – from the tiny flat in north-west London where he shared a bedroom with his parents and younger sister, via a first-class degree from Oxford and a stint as a City accountant – is what he refers to as "working like a dog". So before he teaches a new class anything, he says, "I tell stories for a week in advance about how you have to work hard at everything in life, how you have to be prepared to dig in, how I have extremely high standards for you, so I'm not going to let you not do your homework, sorry."
Hegarty doesn't believe there is such a thing as being "good at maths" or, heaven forbid, bad at it. His father worked on building sites, his mother was a home help; neither gained any qualifications before leaving Ireland for Kilburn. But they both read with Hegarty and his sister when they got home from work, and there was always a space for him on the kitchen table to do his homework. "I was never wanting for Letts books – you know those Letts revision guides? If I wanted a book to help me, I got it, no matter what."
It's about establishing a culture of application, self-belief and support, he says. "Once that is sorted, you can do anything."
["Source-theguardian"]