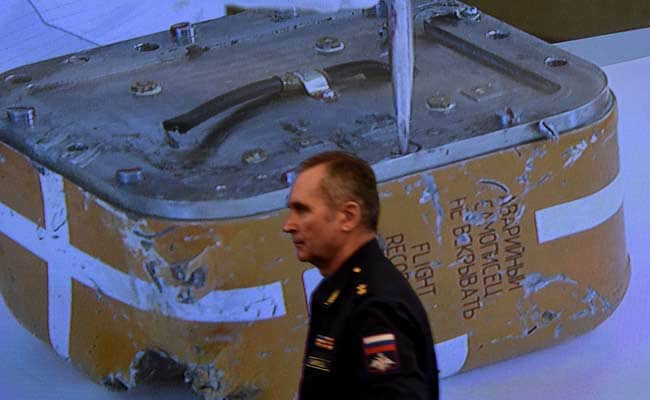 MOSCOW: 
Russia today began examining the black box of its warplane that was shot down over Turkey's border with Syria, again contesting Ankara's claim it had violated Turkish airspace.
Moscow and Ankara are locked in a bitter spat over Turkey's shooting down of Russian Su-24 jet on November 24, killing two Russian officers and sparking a furious war of words as well as economic sanctions from the Kremlin.
"We have sufficient evidence that proves that the Russian aircraft did not violate Turkish airspace," said Sergei Dronov, the deputy head commander of the Russian air force, adding that the downed plane had been flying in Syrian airspace 5.5 kilometres (around three miles) from the border with Turkey.
State television broadcast the opening of the orange device on state television as military officials insisted it was intact as experts from China and Britain watched the procedure.
Wearing lab coats, technicians used screwdrivers, drills, and even a vacuum cleaner as they opened the device under the watchful eyes of military personnel and dozens of journalists.
The Russian military retrieved the black box after Syrian special forces "liberated" rebel-held territory where the jet was shot down, Defence Minister Sergei Shoigu said earlier this month.
President Vladimir Putin has said an analysis of the black box would help determine the downed jet's flight path and position, which Ankara and Moscow have furiously disagreed upon.
Turkey says the Russian jet strayed into its airspace and ignored repeated warnings, while Moscow insists it did not cross from Syria and accused Ankara of a planned provocation describing it as a "stab in the back".
Dronov said 14 countries had been invited to monitor the investigation but only China and the UK had accepted. He also said unidentified "US citizens" were also participating in the procedure, without elaborating on their capacity.
The findings will be revealed on December 21, the air force said.
["source-ndtv"]