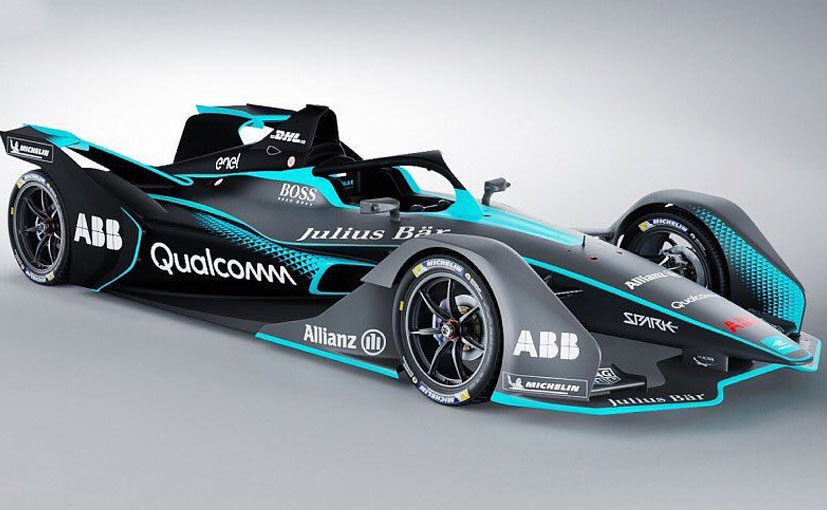 One of the fastest growing sporting events globally, Formula E has revealed the first images of its second generation car that will be used from the 2018-19 season. Currently in its fourth season, the electric race car witnesses a major departure over the standard single seater design of race cars, while it will also rule out the mid-race car swaps that are currently mandatory in Formula E. The second generation Formula E will be making its public debut at the Geneva Motor Show on March 6, 2018, which is when the specs will also be revealed.
Also Read: Mahindra Racing Formula E Team Partners With Pininfarina And Tech Mahindra
The new generation Formula E race car is significantly different and futuristic too compared to the F1 or other Formula cars we currently have. The new FIA-mandated Halo cockpit device has been integrated into the design while the wheels are covered taking inspiration from the LMP-1. There's also a massive rear diffuser, complementing the aggressively styled front and rear wings.
Formula E CEO Alejandro Agag described the new electric race car as the "future of racing". Adding further, he said, "When we started Formula E, our goal was to break the mold and challenge the status quo – bringing a revolution to motorsport. This next generation car represents that revolution."
FIA president Jean Todt said, "I'm sure that everyone will be very excited by how futuristic and advanced it is. I'm very proud that the FIA has been at the forefront of this car's development. I can't wait to take the covers off the real car when it will be seen for the first time in Geneva on March 6."
Also Read: 2018 Formula E-Prix: What To Expect At The Marrakech E-Prix
The new generation Formula E car has been produced by Spark Racing Technologies, which won the tender and will be powered by the new batteries from McLaren Applied Technologies. McLaren won the bid to supply the battery supplier beating Williams Advanced Engineering. Interestingly, both these companies have a long legacy in Formula 1.
The new Formula E car will be faster, almost double the amount of energy storage capacity and a better range as well.
["Source-ndtv"]