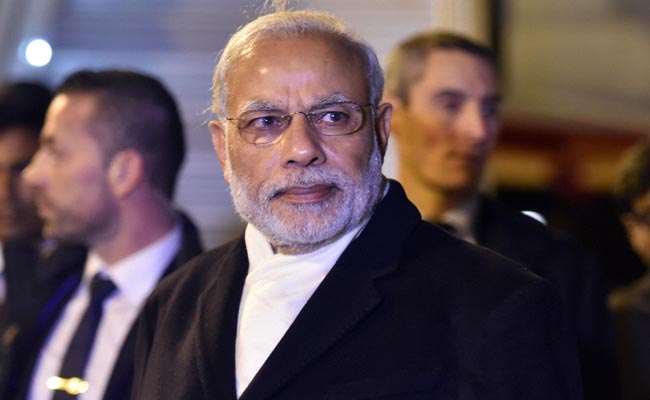 RANN OF KUTCH: 
Amidst mounting concerns over radicalisation of youths by ISIS and other terror groups, Prime Minister Narendra Modi today said sensitivity should be a vital element of policing.
PM Modi also made a strong pitch for a "flexible instructional framework" under which police should establish links with local communities.
"Sensitivity should be a vital element of policing and a flexible institutional framework should be built, which can help imbibe sensitivity towards citizens in the police force," he said addressing the concluding session of the three-day DGPs conference in Rann of Kutch.
The Prime Minister told nearly 100 top police officers of the country that local communities must be taken into confidence in policing and technology should be used in tackling crimes.
"Police forces should establish links with local communities and one way of doing this is to celebrate the successes and achievements of people in the community," he said.
The Prime Minister said when people visit police stations to celebrate their achievements, they would also develop a greater understanding and respect for the work done by police officers.
In this exercise, people people in a community should identify with police stations, he said.
Police in Andhra Pradesh, Maharashtra, Karnataka and Delhi have involved family and community elders in deradicalisation of a few youths who allegedly came under the influence of Middle-East terrorist group ISIS recently.
PM Modi also sought greater interaction between the police forces of neighbouring districts across inter-state borders.
"The Prime Minister touched upon subjects such as cyber-security, digital technology and social media, and said police officers should use emerging technologies effectively in their work," an official statement said.
Expressing happiness over the quality and depth of the discussions during the three-day conference, he observed that this was an indication of the dedication and professional competence of the police force.
He called for a clear roadmap to implement the recommendations that emerged from the conference.
The Prime Minister said the discussions and inputs involved both junior and senior officers, from across the country, and this had helped break silos, which is a significant achievement.
PM Modi also spoke on the subjects of tourism policing, disaster management and police training.
The Prime Minister praised the dedication and selfless service put in by the police officers, and their commitment to duty, which he said was the essence of the nation's security, the statement said.
The Prime Minister also gave away the President's medals for distinguished service to IB Officers.
Earlier in the day, the delegates discussed the subject of police universities, and forensic science university.
Home Minister Rajnath Singh, Ministers of State for Home, Kiren Rijiju and Haribhai Parthibhai Chaudhary were present at the conference was organised by Intelligence Bureau.
["source-ndtv"]