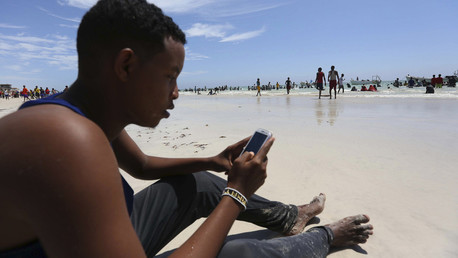 he United Nations will be 22 years late in fulfilling its pledge to bring the internet to the world's poorest countries unless urgent action is taken, according to a new report which urges the UN to bring down broadband prices.
Although the UN's 193 member states agreed in September to "strive to provide universal and affordable access to the internet in least developed countries by 2020," that goal is not on track, according to the study conducted by the Alliance for Affordable Internet (A4AI).
"Without urgent reform, in 2020 we will see just 16 percent of people in the world's poorest countries, and 53 percent of the world as a whole, connected. We won't just miss the target, we'll miss by a mile," the report states.
It added the "connectivity lag will undermine global development across the board, contributing to lost opportunities for economic growth and denying hundreds of millions access to online education, health services, political voice, and much, much more."
The alliance said the UN's goal would instead be achieved 22 years late, in 2042, unless action is taken. It called on the UN to bring down broadband prices in order to accelerate progress.
"If we are serious about achieving universal access by 2020, we need to condense almost 30 years' worth of work into the next five years,"Sonia Jorge, A4AI's executive director, said in a press release.
The alliance urged the UN to reassess its definition of "affordable internet," saying that 70 percent of people in the world's least-developed countries cannot afford to pay for a basic monthly 500MB broadband plan.
The current accepted UN-agreed threshold for internet is less than five percent of a country's average monthly income, for 500MB of monthly mobile data. However, A4AI says a goal of 1GB of mobile broadband data at two percent or less of the average monthly income is necessary if the proposed target is to be met.
"Immediate, collaborative action is required – let's work together to build open and competitive markets that can drive prices down to 2 percent or less of monthly incomes, while creating innovative public access programs to reach those that market forces can't," Jorge said.
The alliance stressed, however, that lower prices will not be enough, and urged governments to also provide free or subsidized public access, as well as digital education.
Today, over four billion people – some 56 percent of the world – are not connected to the internet, according to the report. The majority of the offline population is made up of women.
A4AI's members include tech giants such as Google, Facebook, Intel, Microsoft, and Cisco, all of which aim to bring the internet within the reach of everyone across the globe.
["Source-rt"]