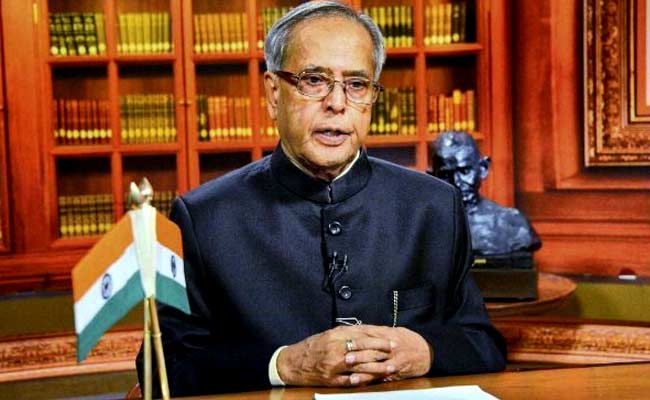 HYDERABAD: 
President Pranab Mukherjee today said that Vedas are a source of India's heritage, culture and constitute the foundation of our value system.
The ideas enshrined in the Vedas are essentially the benevolent messages limited not only to the welfare of the individual, society and the nation, but manifest a spirit of universal brotherhood, he said after inaugurating a Vedic school at Ai-Bhimavaram in East Godavari district of Andhra Pradesh.
He hoped that the Vedapathasala set up by Tirumala Tirupati Devasthanams (TTD) will emerge as a centre for promoting Vedic knowledge, oral traditions and heritage.
Mr Mukherjee noted that the traditional Indian philosophy of "Vasudhaiva Kutumbakam" beautifully captures the essence of their global outlook. "The UNESCO has also recognised the Vedas as oral heritage and it is our sacred duty to preserve them in their pristine form," he said.
Stating that Vedas are an integral edifice of traditional Indian culture and values, he said they provide with insightful knowledge, wisdom and understanding through ancient Vedic lore and anecdotes.
The president said true message of Vedas can only be availed if they are interpreted correctly. In fact, the old Indian tradition of Vedic teachings was primarily oral and it was based upon the bedrock of "guru-shishya parampara (teacher-disciple tradition)".
He lauded several measures taken by TTD to preserve the oral tradition of Vedas like providing financial assistance to over 1,000 Vedic scholars. It is also financially assisting 100 Vedapathasalas spread across the country.
TTD is running seven Vedapathasalas at Tirumala, Hyderabad, Nalgonda, Vizianagaram, Kotappakonda and Ai-Bhimavaram, and has also started Sri Venkateswara Vedic University, a unique institution of its kind, the president noted.
It has also established Centre for Veda Science Research (CVSR) for promoting research in Vedas under the enlightened care of scientific institutes.
["source-ndtv"]