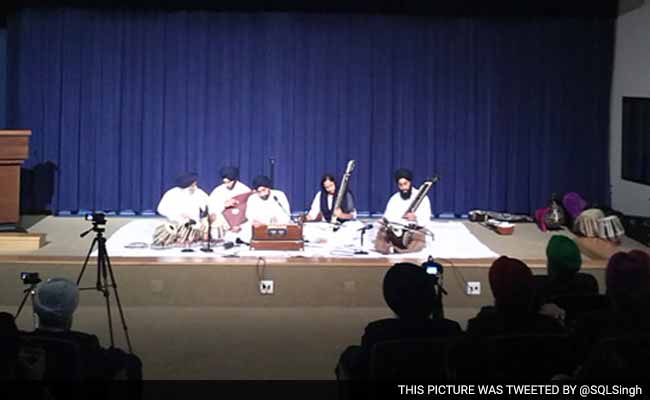 WASHINGTON: 
The White House celebrated the birth anniversary of Sikhism's founder Guru Nanak with top aides of President Barack Obama assuring the community of his full support.
"President Obama stands with, he stands behind you and he stands in solidarity with you. And we all have a responsibility to remind Americans what makes us great" President Obama's senior adviser Valerie Jarrett told a gathering of the Sikh community from across the US.
The programme opened with Jesse Moore, Associate Director of Public Engagement, welcoming the guests. This was followed by a Sikh hymn performed by Manpreet Singh and Raghubir Singh from New Jersey on classical instruments like taus, dilruba and jodi.
When Jarrett greeted the gathering saying "Happy Gurpurab" a room full of Sikh men, women, and children cheered and clapped, according to a media release.
Dr Rajwant Singh, Chairman of the Sikh Council on Religion and Education, said, "The Sikh community is grateful for the powerful and supportive words of President Obama's team today."
"This sends an assuring signal to the entire community that this nation stands behind it," he said.
Valerie Jarrett was given a Phulkari shawl, a typical Punjabi speciality, and a book on Sikh heritage and ethos as she was honoured by Sikh representatives from Sikh Coalition, Sikh Council on Religion and Education and United Sikhs.
Vanita Gupta, principal deputy assistant attorney general, said: "We at the Justice department continue to use all of the tools available to combat any violence or hate against the Sikh community."
In his keynote address, Amritjit Singh of Ohio University discussed about "Guru Nanak: Equality and Social Justice".
"Guru Nanak's message has special resonance for us today where fear and ignorance are giving rise to hatred, violence, and intolerance," he said. "The Guru had a sharp eye for the patterns of hypocrisy, intolerance, and exploitation."
Nikki-Gurinder Kaur Singh of Colby College said the legacy of Guru Nanak empowers young Sikhs "with an identity which is equally American and Sikh."
"It is a profound symbol of our being together and it expresses that we are Americans no matter what complexion or religion we may be."
["source-ndtv"]